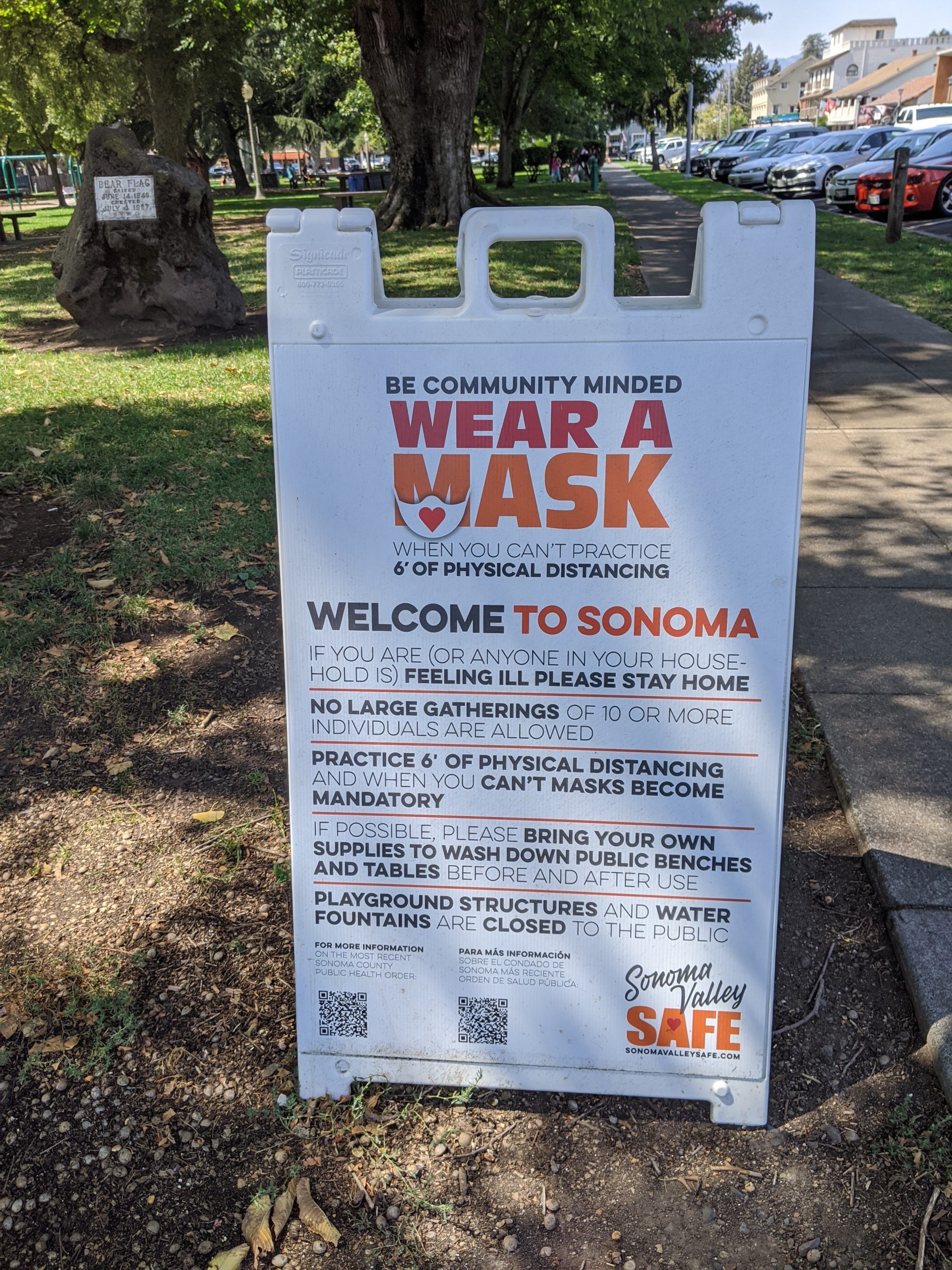 At the August 17, 2020 Sonoma City Council meeting, the Council approved an urgency ordinance authorizing administrative enforcement of COVID-19 public health orders in the City of Sonoma. This ordinance supports local enforcement of county and state health orders in order to protect the health of Sonoma's most vulnerable community members, the capacity of our local health care system, and our local economy.
The City's ordinance mirrors the enforcement ordinance recently passed by the Sonoma County Board of Supervisors, which provides for local civil administrative citations and civil penalties (fines). Together, these ordinances provide for a consistent structure throughout Sonoma Valley for enforcing public health orders.
Administrative citations within City limits can now be issued by City code enforcement staff. This enhances and supports the role of the Police Department in enforcing health orders, and provides the flexibility of a tool that is at a lower level than a misdemeanor citation issued by law enforcement.
The City of Sonoma will continue its ongoing efforts to focus first on educating individuals and businesses about the importance of adherence to public health orders.  Administrative citations and fines will be used only when compliance is not gained through education.
Fine amounts are identical to those in the Sonoma County ordinance and are as follows:
Personal (non-commercial) violation: up to $100 per violation.
Commercial violation: up to $1,000 for a first violation, up to $5,000 for a second violation, and up to $10,000 for third and each additional violation by same responsible party.
A very helpful step for our enforcement team is that if you believe there may be a violation, check the links below to make sure it is regulated conduct before you report it.
Current information on public health orders can be found at the following links:
Face coverings requirement
Sonoma County Health Orders
State Guidance on allowable activities by county
Citizens may report public health order violations within the City of Sonoma by calling code enforcement staff at (707) 565-4240 or by emailing CodeEnforcement@sonomacity.org during normal weekday business hours.  Violations can be reported after business hours or on weekends by contacting the Sonoma Police Department at the non-emergency dispatch line at (707) 996-3601. For violations outside of City limits, the County has set up a compliance hotline  at 1-833-SAFE707 and email  at Safe707@sonoma-county.org.
For more information, please review the Council agenda report and ordinance.