Gratitude, recognition, community – and love – are the themes underlying a post-fire civic ceremony planned for this Saturday on the Plaza.
"The Love In The Air" Community Gratitude Gathering will begin at 4 p.m., just prior to the annual Lighting of the Plaza event.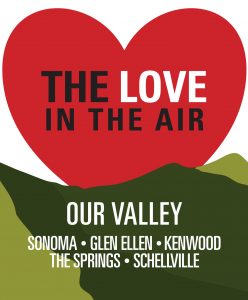 In addition to comments by public safety leaders, there will be musical performances by the Free Spirits Gospel Choir and Transcendence Theatre Company, and special recognition of the contributions from the community during and after the fires.
Before and during the "Love In The Air" ceremony, Valley residents are invited to view an art installation that was created by community members over the past two weeks.
Through the "Heart Art" project, the City encouraged residents of all ages to create tangible expressions of their emotions and perspectives in the fire's aftermath through artwork and/or words on hearts of all sizes. Lisa Janson, the City's special events manager, worked with local arts organizations, schools, and businesses on the Heart Art Project in a community-wide effort that led to hundreds of pieces of artwork.
"Students at the high school cut out 300 wooden hearts using wood donated by Friedman Brothers. Hanna Boys Center made the large hearts we have in front of fire stations and local stores. Kids Scoop provided letters and drawings made by their readers. The Community Center, Art Escape, Sonoma Valley Museum of Art, and the Boys & Girls Club all held sessions for people to create their art. And Rotary and the Mentoring Alliance volunteers are helping set up the art installation," said Janson. "Our community has embraced this project."
In addition to being displayed on the Plaza on Saturday, heart artwork can be seen at local businesses, fire stations, and other locations throughout the community.
City Council members Madolyn Agrimonti and Amy Harrington led a subcommittee that planned the heart art project and Saturday's community gathering. "So much has gone into making the hearts that it represents a sign of healing," said Agrimonti.
The subcommittee drew inspiration from flyers proclaiming that 'The Love In The Air Is Thicker Than The Smoke' that were shared widely during and after the fires.
"We felt that a heart is the perfect symbol of how our local community has come together in to support each other and those who fought to protect our Valley," said Harrington.
The image signifying "The Love In The Air" was created with help from local graphic artist Lisa Carlsson, showing a heart rising from the Valley's hills, and was used in new banners around the Plaza street lights, that will be in place through the holidays.
Funding for the program was approved by City Council in late October. Costs are expected to run under $5,000 for the community gathering event itself and $2,000 for the Heart Art project, excluding staff time.
Carpooling to Saturday's event is encouraged.