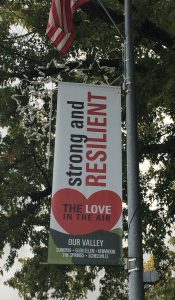 The City of Sonoma was fortunate to escape direct damage from the 2017 fires.  We are extremely grateful to all the emergency responders - local, regional, national, and even international - who worked together to save our town. 
Sadly, many of our neighbors in Sonoma Valley were not as fortunate, with homes and businesses lost or damaged in the hills above town, the eastern edge of the Valley, and the communities of Glen Ellen and Kenwood.  At final containment, the Nuns Fire had comprised more than 56,000 acres and destroyed more than 400 Sonoma Valley homes.
At the City of Sonoma, we are committed to supporting the recovery and rebuilding efforts.  One of the best ways for us to do this is to help connect the Sonoma Valley community to resources for recovery and the best places to access up-to-date information. 
A comprehensive "Sonoma County Recovers" website has been developed as the official source of information on recovery resources for the County of Sonoma and the City of Santa Rosa.   We recommend that you keep informed of latest updates, including timelines for filing for assistance programs, by visiting their News page.  
We also invite you to follow the City of Sonoma's facebook page, and to learn about "The Love In The Air" community gratitude project.  Direct links to key information, as well as updates and FAQs for Sonoma Valley, are provided below.