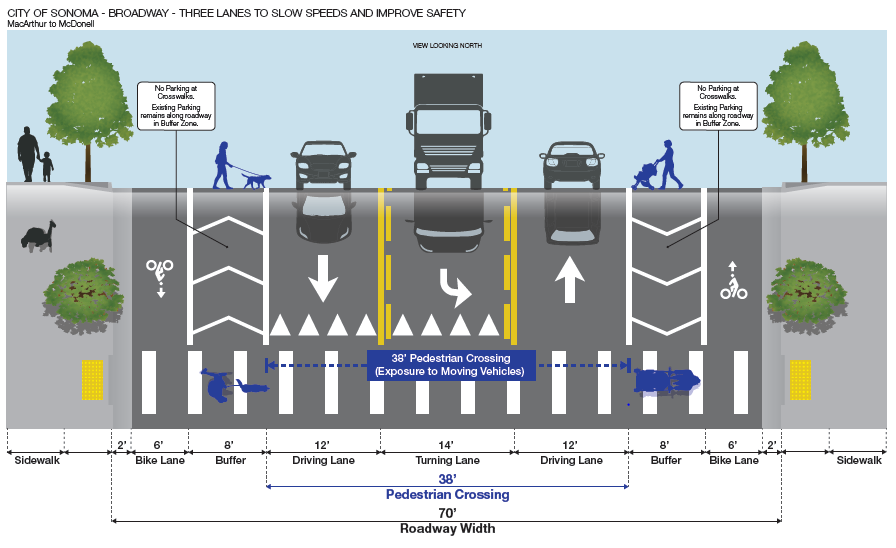 At their May 3rd and June 7th meetings, City Council considered potential Broadway safety improvements. These discussions were scheduled in response to requests for Broadway safety improvements after a pedestrian was severely injured and her dog was killed in the Broadway crosswalk at Andrieux Street on April 17, 2021.
One of the options considered was to request that Caltrans implement a revised striping plan for Broadway to improve pedestrian safety between MacArthur Street and Napa Street after paving Broadway in late Summer/Fall 2021 or Spring 2022 as part of the Pavement Rehabilitation project currently under construction.
City Council is scheduled to consider a revised striping plan that reduces the pedestrian crossing distance on Broadway between MacArthur Street and McDonell Street by reducing the number of driving lanes at their August 2, 2021 meeting.
The public is invited to provide feedback on the revised striping plan. Comments may be submitted prior to the August 2nd meeting via e-mail at publiccomment@sonomacity.org.
Learn more, find frequently asked questions, and see graphics of the revised plan on the Broadway Restriping page.