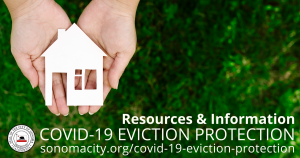 The City Council approved an Eviction Moratorium Urgency Ordinance on May 18, 2020, which will provide protection from eviction due to COVID-19 related loss of income or significant medical expenses. The Eviction Moratorium applies to both residential and commercial tenants in the City of Sonoma.
During this time of shelter in place, self-isolation, and other social distancing, many individuals are experiencing substantial losses of personal or business income as a result of business closures or the loss of hours or wages or layoffs related to COVID-19, hindering their ability to pay rent and/or utility bills.
In an effort to prevent the displacement of residents and businesses through eviction for failure to pay rent or failure to pay utilities, the Sonoma City Council adopted an Urgency Eviction Moratorium Ordinance, which adopts by reference the similar Eviction Defense Ordinance approved by the County Board of Supervisors on March 24th. The City's Ordinance protects against both residential and commercial evictions due to COVID-19 related financial hardships. It also provides a grace period for repayment of rent of up to 180 days. The ordinance does not relieve tenants from having to pay back the unpaid rent, which the property owner may seek after the termination date of the Eviction Moratorium.
The City's Ordinance is retroactive and applies to non-payment eviction notices and unlawful detainer actions based on such notices served or filed on or after March 12, 2020.  The City's Ordinance is set to expire on May 31, 2020 ("Moratorium Termination Date"), concurrent with the expiration date set for the Governor's Executive Order N-28-20, which authorized local agencies to prohibit evictions based on the non-payment of rent due the COVID-19 reasons. The City's Ordinance will be automatically extended if the Governor's Executive Order is extended.Please read the full text of the City's Ordinance to understand all of the applicable protections and requirements.
Please visit the COVID-19 Eviction Protection page for more information about other eviction protection measures issued by the State and County of Sonoma as well as additional information and resources that can provide assistance if you or someone you know is facing the threat of a residential or commercial eviction.
In addition, The City of Sonoma has set aside a fund and partnered with the local organization Friends In Sonoma Helping (F.I.S.H.) to provide rental and utility assistance for residents of Sonoma and those who work (or would be working but for the Coronavirus pandemic) in the City. Those in need of assistance who meet eligibility criteria can apply online through the F.I.S.H. website or call (707) 996-0111.