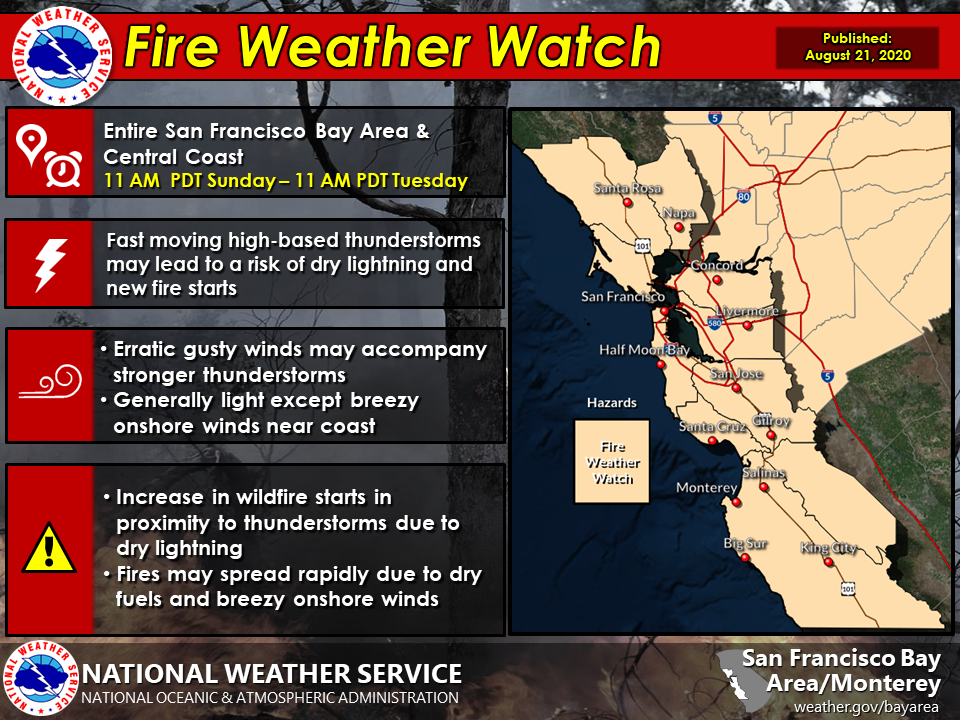 The National Weather Service issued a Fire Weather Watch for the San Francisco Bay Area and Central Coast including Sonoma County which is in effect from 11:00 AM Sunday, August 23rd through 11:00 AM Tuesday, August 25th as tropical system Genevieve moves northward toward our area.
While onshore winds are expected to be light, erratic and gusty winds may accompany isolated to scattered dry thunderstorms that are expected to develop Sunday afternoon into Monday morning. An additional round of thunderstorms is expected to arrive later Monday into Tuesday. Please listen for later forecasts and possible Red Flag Warnings. No Public Safety Power Shutoff (PSPS) events are expected for the next week.
Prepare your household in case of an emergency
Our Disaster Preparedness Page and Fire Safe Sonoma have an abundance of information to best prepare you and your family for an emergency. Being prepared means having your own food, water, and other supplies to last for several days. A disaster supplies kit, or "go-bag," is a collection of basic items your household may need in the event of an emergency.
Stay informed 
· For information on immediate threats to personal safety or property, tailored to an address of your choosing, sign up for SoCo Alerts www.SoCoAlert.com or call (707)565-1369 for more information.
· Sonoma County will send a Wireless Emergency Alert to areas if evacuations are ordered, intended to reach all cell phones in the area. Learn more: www.socoemergency.org
·  Sign up for safety information on Nixle by texting your zip code to 888-777.
· You can view current National Weather Service Alerts for Sonoma County here.
Social media can play an important role in sharing information before, during, and after emergencies, and if you are active on social media it's a good idea to follow Facebook pages for the City of Sonoma, Sonoma Police Department, Sonoma Valley Fire & Rescue, County of Sonoma, Sonoma Valley Hospital and Sonoma Sheriff.  You can also follow the Sonoma Sheriff and County of Sonoma on twitter. The City of Sonoma may also share information through Nextdoor.  Due to potential delays in posting information, please do not rely on social media as your primary notification of a local emergency.
Review your evacuation and communication plan 
· Identify several evacuation routes for your location in case roads are blocked and tell someone out of the area which routes you plan to use.
· If you will evacuate by car, keep your car fueled and in good condition. If your car is in a garage, know how to manually open the garage door in case of a power outage.
· Make a list of what you'll want to take with you if you leave your home quickly. Consider the Five P's of Evacuation: 1) People/Pets; 2) Prescriptions; 3) Papers; 4) Personal Needs; 5) Priceless Items.
In the City of Sonoma and the rest of Sonoma County, public safety vehicles are outfitted with Hi/Lo sirens, which offer a different sound than traditional sirens, and will be used to alert residents to evacuate. This 2-tone siren will only be used in an emergency to alert residents within specific areas of the need to evacuate. If you hear the Hi/Lo, it's time to go.
For more information and to view the City's Emergency Operation Plan, please visit our Emergency Preparedness Page.