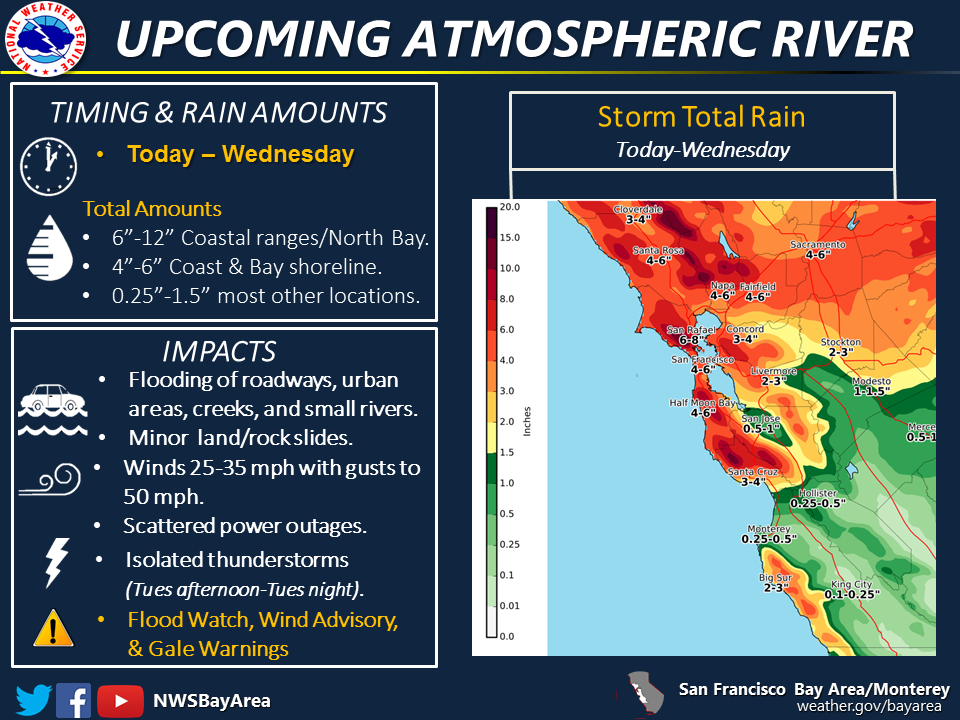 The National Weather Service (NWS) predicts that the "Atmospheric River" weather event that arrived today will produce 4-6 inches of rain today (2/25) through Wednesday (2/27). See the National Weather Service weather forecast for more information and predictions including information regarding a Flood Watch. A flood watch means there is a potential for flooding based on current forecasts. City staff is actively monitoring the situation and will continue to do so.
To report localized flooding in Sonoma city limits during regular business hours Monday – Friday, 8:00 a.m. – 5:00 p.m, call the City of Sonoma Public Works Department 707-938-3332. To report flooding after regular business hours, call the Sonoma Police Department Non-Emergency Dispatch at 707-996-3601. IN AN EMERGENCY CALL 9-1-1.
Turn around, don't drown when encountering flooded roads. Most flood deaths occur in vehicles. Be especially cautious at night when it is harder to recognize the dangers of flooding. Do not attempt to cross flooded roads. Find an alternate route. If you can, stay home and off the streets. County road closure information can be found here, Highway Conditions can be found here.
Visit our Emergency Preparedness page for more information including an Emergency Supplies Checklist and visit Ready.gov/floods to learn more about how you can protect yourself, your family, and your community in the event of flooding. To stay up to date on emergency notifications, make sure to sign up for SoCo Alerts and Nixle.