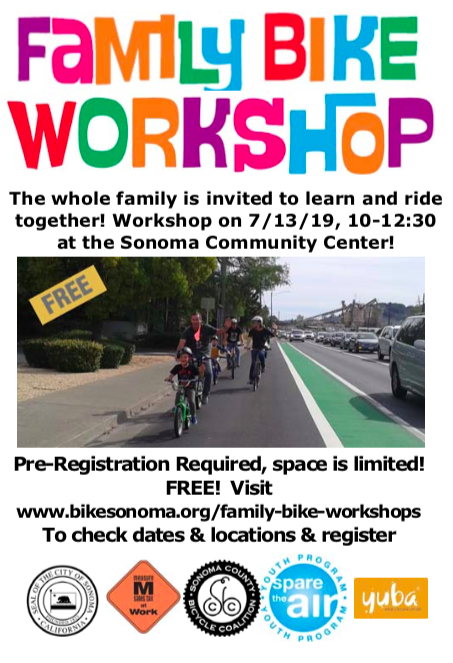 On Saturday, July 13, 2019, the City of Sonoma (City) is sponsoring a free one-day bicycle training event featuring Sonoma County Bicycle Coalition's Bicycling Family Workshop.  The class will be held at the Sonoma Community Center, located at 276 East Napa Street in Sonoma. The class will take place from 10:00 a.m. to 12:30 p.m.
Do you want to make sure that both you AND your children know how to ride your bicycles safely and confidently for transportation purposes and/or for recreation? The Sonoma County Bicycle Coalition's Free Family Bicycling Workshop offers parents and their children the opportunity to gain bicycling skills and confidence in a fun, safe, and supervised environment.
The first riding portion of the workshop takes place on blacktop, where adults and children receive instruction on safe cycling strategies and practice riding through drills and maneuvers. The second portion of the workshop consists of a supervised 1-2 mile neighborhood bicycle ride, where family members receive real world experience riding with traffic, under the guidance of experienced League of American Bicyclist Certified bicycling instructors. Each participant receives a free blinking light for participating.
Parents and children must participate in the workshop together, and participating children must be able to ride a bike and be ready to drive on the road with their parents. All participants must bring working bicycles and wear helmets. If you need a helmet, you may request a loaner or purchase one for $8.00 at the workshop!
"On the neighborhood ride, parents and kids learn about things they may not learn from a manual, like where to best position themselves on roads of varying widths and traffic volumes, how to most safely make a left turn, and exactly how far away they should ride from parked cars," says Tina Panza, Education and Safe Routes to School Director for the Sonoma County Bicycle Coalition. "Parents and kids also get guided skills & handling practice before the ride, which can help determine a child's readiness for riding in groups and/or on their own."
The City is sponsoring this class free to attendees.  Space is limited.  Online pre-registration is mandatory.  Register today at www.bikesonoma.org/family-bike-workshops.
Learn more about bicycling in Sonoma and download a City of Sonoma Bicycling Map on the City's website.