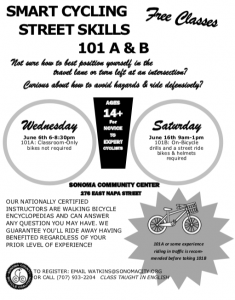 The City of Sonoma is sponsoring 'Smart Cycling Street Skills 101 A & B' in June. These free classes are for novice to expert cyclists 14 years or older.  Nationally certified instructors from the Sonoma County Bicycling Coalition encourage cyclists of all levels of expertise sign up for the classes and for participants to bring all their cycling questions.
There will be two classes offered, 101A and 101B.  101A is scheduled for Wednesday, June 6, 6pm-8:30pm. This is a classroom-only class, bikes are not required for 101A. 101B is scheduled for Saturday, June 16, 9am-1pm. This is an 'on-bicycle' drills and street ride, bikes & helmets are required.  101A or prior bicycling experience is recommended before taking 101B.  Both classes will be held at the Sonoma Community Center at 246 East Napa Street.
To Register, Email Wendy Atkins or call (707) 933- 2204
Classes are taught in English
Visit our bicycling page to learn more about bicycling in Sonoma.
SaveSave