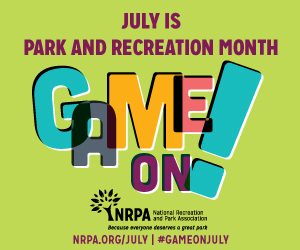 Since 1985, America has celebrated July as the nation's official Park and Recreation Month. Created by the National Recreation and Park Association (NRPA), Park and Recreation Month specifically highlights the vital and powerful role local parks and recreation play in conservation, health and wellness, and social equity efforts in communities all across the country.
This year, it's all about highlighting the fun and games at the City of Sonoma (City) parks and the exciting recreation, youth, and senior programs offered by the City's Community Partners.  Sonoma residents and visitors enjoy a variety of park amenities, from picnic tables and play structures to community gardens and hiking trails at Sonoma's 17 parks encompassing nearly 40 acres of urban parks and 142 acres of natural open space parks.  The City's parks are managed and maintained by the City of Sonoma Public Works Parks Division, assisted by Sonoma Overlook Trail Steward volunteers, Scandia Landscaping and Sonoma Ecology Center. Sonoma parks also play host to a number of special community events through the year, including the Annual Sonoma City Party on the Sonoma Plaza, coming up August 1st, 2019.
The City provides recreation, leisure, and community services through investment in outside service agencies which provide youth programs, athletic programs, senior services, arts and theater, and the facilities that operate these programs. This summer, the City partnered with local non-profits with robust youth recreation programs to create Enhanced Summer Recreation Youth Programs to provide safe, supportive and equitable recreation opportunities for youth and teens throughout Sonoma Valley.
NRPA and the City of Sonoma encourage everyone to get out there and "get in the game" in their own way. You can get moving and take one of the movement courses offered at Sonoma Community Center, sign up the kids for one of the Boys & Girls Club year-round youth athletic programs, take a hike with the Sonoma Ecology Center, or go bird watching with the Vintage House Senior Center. City of Sonoma Recreation and Community Services Partners offer a wide variety of programs that are not only fun, they also bring the community together.
So, the next time you throw a 'Baci' at the Bocce Courts, take in the view from the top of the Sonoma Overlook Trail, join a pick-up game of basketball at Olsen Park, cruise the bike path, play hide-and-seek in your neighborhood park, or however you are "Game On" for parks and recreation, share it with us by using the hashtag #GameOnJuly on social media.
For more information about Parks and Recreation in the city of Sonoma, please visit our Parks Division, Recreation & Community Services, and Outdoor, Recreation and Sports pages. For more information about Park and Recreation month, visit www.nrpa.org/July.