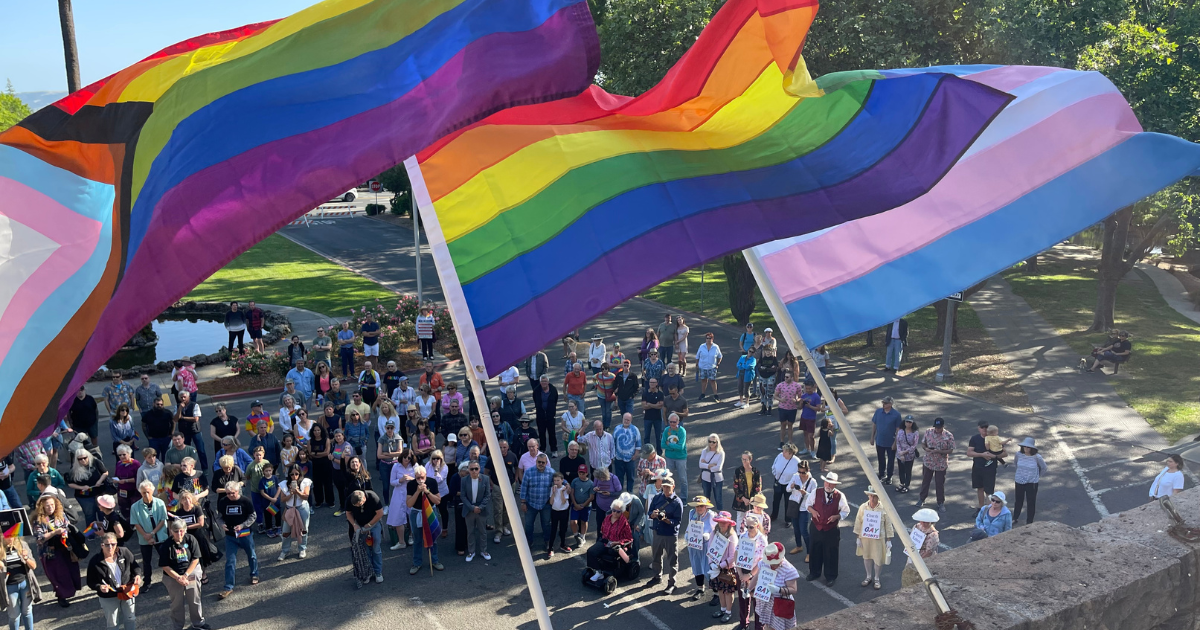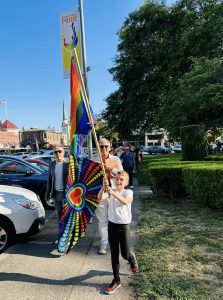 It's Pride Month, and here in the beautiful City of Sonoma, we are proud to celebrate and support Lesbian, Gay, Bisexual, Transgender, and Queer (LGTBQ+)  individuals and allies annually in June with the display of the Pride flag at City Hall, plaza banners and an official proclamation from City Council. Pride Month is a time to commemorate the progress made toward equality and to honor the trailblazers who have paved the way for the rights and freedoms we enjoy today. It is also an opportunity to reaffirm our commitment to creating an inclusive and welcoming environment for all members of our community.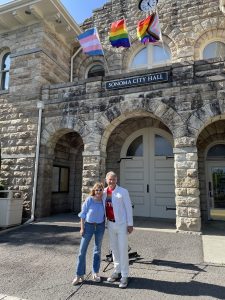 Thank you to all who attended and actively participated in the vibrant celebration of our LGBTQ+ community at the inaugural Sonoma Valley Pride event this past Thursday, June 1st! Your presence and support made this event a resounding success. The festivities kicked off with an inspiring gathering in front of the annual Pride flag display at Sonoma City Hall. We were privileged to have a lineup of remarkable speakers who shared their stories, insights, and visions for an inclusive Sonoma. Watch a recording of the program on Sonoma Valley Television's YouTube channel.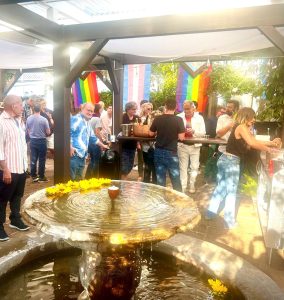 Following the speakers, the crowd embarked on a spirited pride walk around the Plaza Park and concluded the festivities with a delightful reception at the Sunflower Caffé, where participants connected and celebrated. We extend our appreciation to Mayor Sandra Lowe and Gary Saperstein with Out in the Vineyard for spearheading the event, our esteemed speakers, KSVY / Sonoma TV, the Sunflower Caffé, and city staff – all who dedicated their time, resources, and energy to make Sonoma Valley Pride possible.
Other Ways to Celebrate Pride
Pride Artist Exhibition: The latest exhibition in Council Chambers features four Sonoma Pride Artists Tricia Rissmann, Alicia Buelow, Katherine Allbright, and Julie Trestman. The exhibition can be viewed ahead of or during any city meeting in Sonoma City Council Chambers located at 177 First Street West in Sonoma.
Sonoma County Pride: Find more Pride events and celebrations on the Sonoma County Pride website.
We would like to express our gratitude to the LGBTQ+ community and allies for their invaluable contributions to our city. Your presence enriches our lives and makes Sonoma a better place for all.