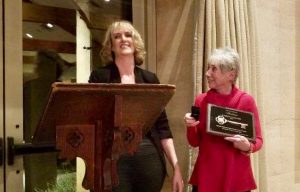 It was standing room only at the 2019 City of Sonoma Alcaldessa Reception honoring Karen Collins at Ramekin's Culinary School, Events & Inn on Wednesday, February 27, 2019.
The program began with introductions and remarks by Sonoma Mayor Amy Harrington who introduced the guest of honor, fellow Council Members in attendance, and the 2018 Alcalde, Marcelo Defreitas.  Mayor Harrington thanked Mr. Defrietas for his "outstanding representation of the City for the past year" and presented Mr. Defrietas with his portrait that was hung in City Hall during 2018.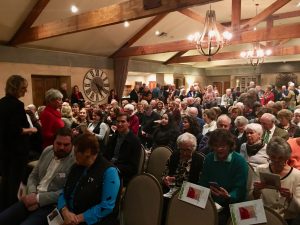 Mayor Harrington then presented a plaque bearing a key to the City to Ms. Collins in front of an enthusiastic audience for her ongoing efforts and contributions to the Sonoma community. Ms. Collins was further recognized by Rebecca Hermosillo on behalf of Congressman Mike Thompson, by Ezrah Chaaban on behalf of Senator Bill Dodd and Assembly Member Marc Levine, and by Sonoma County Supervisor Susan Gorin.  Guest speakers included Bert Whitaker, Bill Lynch, Donna Halow and Maggie Haywood.
2018 Alcalde, Marcelo Defreitas passed the silver-headed cane that has always served as a symbol of the Alcalde's authority, to Ms. Collins to carry during her tenure. Congratulations to our 2019 Alcaldessa, Karen Collins!
To learn more about the City of Sonoma Alcalde and a list of past Alcaldes and Alcaldessas, please visit our Alcalde page.