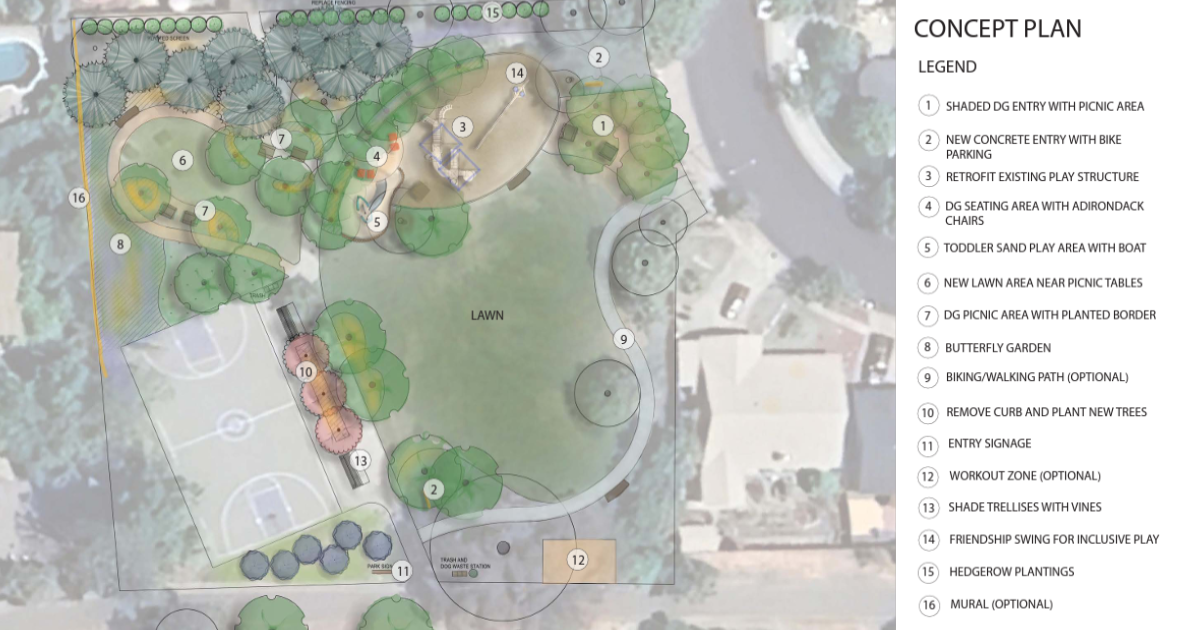 The Parks, Recreation and Open Space Commission (PROS) will discuss and consider the proposed conceptual design for the Olsen Park Improvement Project at thier next meeting on Wednesday, September 13th.
The concept design will be presented by representatives from LandCulture, LLP, the firm contracted to design the park. The design was created following community engagement and careful consideration of the feedback received during the visioning meeting and online survey.
This rehabilitation will include the addition of playground features, the addition of shade structures and shade trees throughout the park, and the addition and revitalization of picnic and seating areas. Learn more and see the conceptual design in the staff report for the item. Learn more about the project and sign up for updates on the Olsen Park Improvement Project webpage.
The meeting will be conducted at the City Council Chambers, located at 177 First St. West. You can also observe the proceedings via Channel 27 or access the City's CivicWeb portal. Notably, this meeting will be conducted as a "hybrid meeting," permitting participation both in person and virtually through Zoom. Further instructions on virtual participation can be found here.
We encourage the public to submit comments via our CivicWeb Portal. To do so, click on the "Public Comment" button prominently displayed at the top of the page*. Alternatively, if you wish to provide comments in person, you may speak during the designated public comment period for the relevant agenda item.
Stay connected with us! If you wish to receive future notifications regarding PROS meetings via email, kindly subscribe through our CivicWeb portal.
*Please note that, in accordance with the City's established procedure, any comments received before the commencement of the meeting will be uploaded to the public correspondence folder on the City's CivicWeb Portal. These comments will be accessible for review by the public and the Commission but will not be read aloud during the meeting.