Olsen Park Improvement Project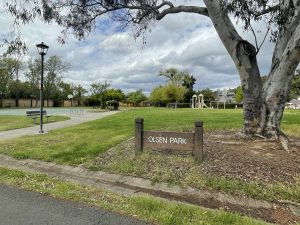 Location: 569 Linda Drive
Description: Olsen Park (Park) is a 2-acre park located on Linda Drive in northwestern Sonoma.  The park includes vegetation, a basketball court, picnic tables, and a play structure.
City staff and LandCulture LLP, the landscape architecture firm hired to renovate the Park, will evaluate existing elements, conduct community outreach, prioritize improvements and rehabilitate park sections.
Funding: The City will use Quimby Act funds combined with General Fund dollars and Parks Measure M funds to pay for the renovation. Quimby Act funds are required to be committed by 2026 and must be used for the rehabilitation of parks and recreational facilities.
Stay Informed! Submit your email address below to receive project news and updates.
Get Involved
The first step in the process is to gather community feedback regarding the Park and what could be improved. The public is invited and encouraged to provide thier ideas and suggestions through a public opinion survey, open through July 5th. Then on July 8th, the City will host an in-person workshop at the Park, followed by a virtual, interactive community meeting to review design concepts in August.