Fryer Creek Pedestrian & Bicycle Bridge Project
Project Location:  Located over Fryer Creek at Newcomb Street, extending east along Newcomb Street to the intersection of Newcomb Street and Fryer Creek Drive.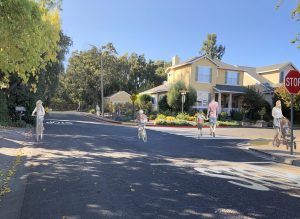 Project Description:  The Fryer Creek Pedestrian & Bicycle Bridge Project (project) will include the construction of a new bicycle and pedestrian bridge/path and circulation/accessibility improvements along Newcomb Street and Fryer Creek Drive. The project will improve access for residents on both sides of Fryer Creek, and improve connectivity to the citywide bicycle and pedestrian system, provide a safer route to local schools (Sonoma Valley High School and Adele Harrison Middle School), places of employment, residential areas, parks and other destinations.
The bridge will be constructed over Fryer Creek to connect Newcomb Street on the east and the existing multi-use paths and Manor Drive on the west.  A new 8-foot wide, 60-foot long paved bicycle and pedestrian path will extend from the eastern bridge approach to the existing residential driveway on the north side of Newcomb Street.  A new sidewalk and associated curb and gutter will be constructed along Newcomb Street. This project will be located within the City right-of way.
Project Budget:  The City was also awarded a federally funded One Bay Area Grant (OBAG) through the OBAG 2 program led by the Sonoma County Transportation Authority. This grant is expected to partially fund the construction phase of the project and is currently allocated to be available in the Federal Fiscal Year 2020/21.  $274,000 for the Quimby Act has been allocated in the Federal Fiscal Year 2019/2020.  In the Fiscal Year 2018/19 Capital Improvement Program budget, the City Council approved $132,000 of State Gas Tax funding as well as $48,000 from the City's General Fund for the design and environmental phase of this project. 
Project Status:  The City has completed the 95% Plans, Specifications and Estimate.   The environmental reporting/permitting phase of this project is in the process of being  completed.  Currently, City staff and their consultant team are coordinating with utility companies/agencies regarding existing utilities, including water, sewer, and electrical lines, that cross Fryer Creek near the proposed alignment of the bridge. The California Environmental Quality Act (CEQA) Initial Study/Proposed Mitigated Negative Declaration and the Final Mitigated Negative Declaration have been completed for this project.
Construction is expected to occur in the summer of 2021.