Project Location:  Chase Street over Nathanson Creek, between Broadway and Austin Ave.
Project Description:  This project will replace an existing structurally deficient bridge as defined by the California Department of Transportation (CalTrans) along Chase Street over Nathanson Creek.  The replacement of the bridge is needed to provide a safe and adequate creek crossing for vehicles, bicycles and pedestrians. There will be two vehicle lanes, with shoulders and sidewalks on both sides of the lanes. The bridge will be replaced with a single span 53' wide, 30' long concrete bridge with 12' high abutments.  This project is partially funded with a federal grant.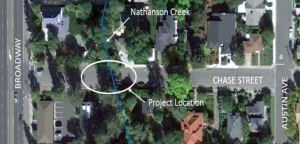 Project Status:  Waiting for Caltrans authorization to construct.