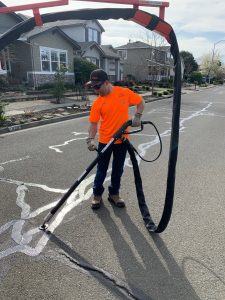 In the coming months, you may notice the City of Sonoma Public Works Streets Division sealing cracks in City streets. The City's new crack sealer equipment is part of the Pavement Maintenance Program which includes a number of preventive maintenance efforts that help extend the life of the pavement in our neighborhoods.
Streets and roads take a beating under the weight of traffic. The first sign of distress on the surface pavement is usually cracking. While cracks may not immediately alter ride quality, they expose the sub-base of the roadway to water leaking through the surface layer. In time, cracks begin to lengthen and multiply, forming interconnected networks of cracks referred to as "alligator cracking." Sealing cracks in city streets is relatively inexpensive and can keep moisture out of pavements and prevent the underlying base from premature failures.
Crack sealing is part of the City's preventive pavement maintenance program, which is necessary to maintain the portion of the road network that is in "Very Good" condition.  As noted in the Metropolitan Transportation Commission (MTC) Pothole Report: Bay Area Roads at Risk, cities and counties that practice preventive maintenance will have lower longterm pavement costs and will safeguard their investment in local streets and roads.
In addition to the Pothole Report, City of Sonoma's streets received a rating of "Good" in the latest Pavement Condition Index (PCI) for Bay Area cities and counties, a detailed assessment of local roadway conditions provided by the regional Metropolitan Transportation Commission. Sonoma's PCI score of 73 puts the City in the top 40% of all Bay Area cities and counties. Within Sonoma County, the City of Sonoma's pavement condition rating was second only to the Town of Windsor.
See the presentation about The Street Pavement Condition Index (PCI) and Metropolitan Transportation Commission (MTC) reports at February 19th City Council meeting. You can see the agenda item summary for the report and watch a recording of the meeting on our CivicWeb portal (Reports starts at 4.02.53).