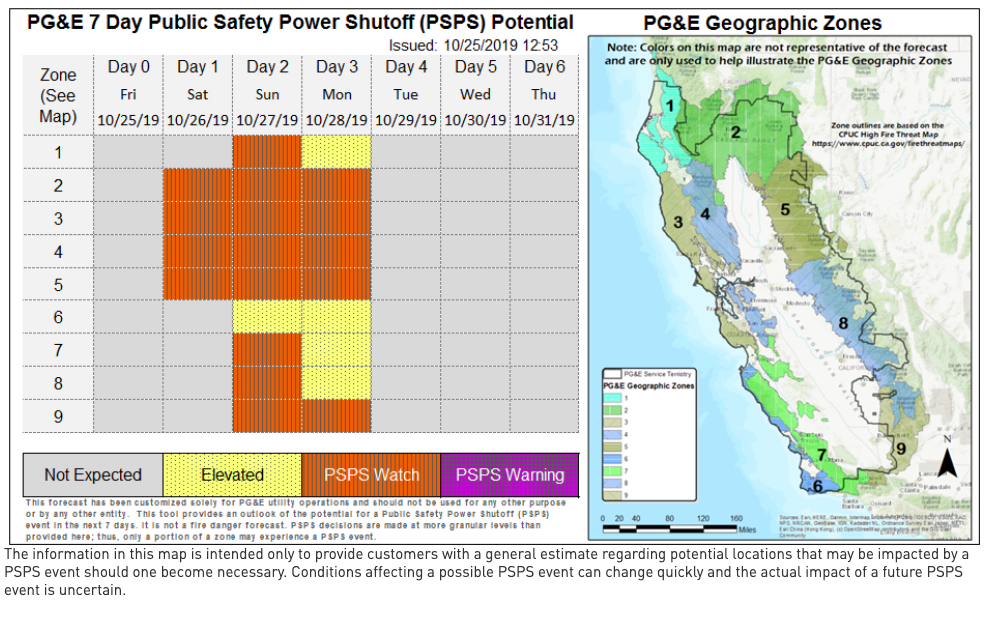 The City of Sonoma is preparing to respond to the impacts of a possible power shutoff conducted by PG&E, a Red Flag Warning and High Wind Advisory expected to arrive Saturday, October 26th and last through Monday, October 28th.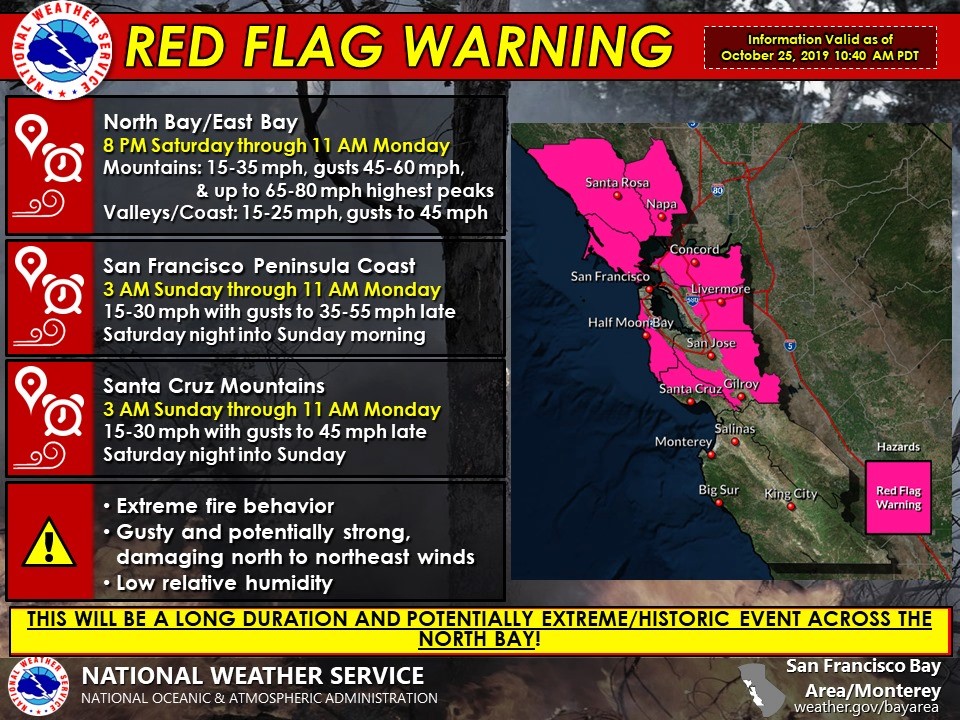 RED FLAG WARNING & HIGH WINDS
The National Weather Service has issued a Red Flag Warning and High Wind Advisory for the North and East Bay Hills and Valleys (8 PM Sat-11 AM Mon). Confidence is high for dangerously strong offshore winds and critically low relative humidity. This event looks to be the strongest since the 2017 North Bay Fires given the strength and duration of the winds. Strongest winds expected Saturday night into Sunday morning. Stronger winds mixing down to the lower elevations will be a particular concern throughout Sunday. Winds will gradually ease Sunday evening, but remain locally gusty across higher elevations into Monday morning.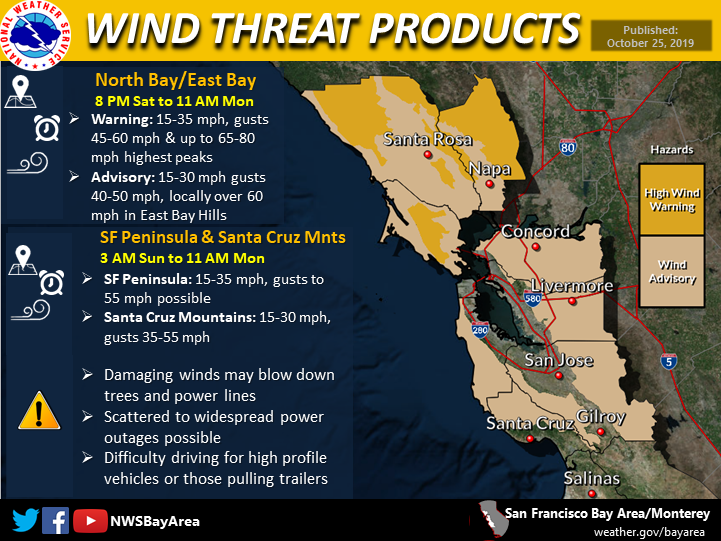 Residents are encouraged to prepare for high winds beginning Saturday, October 26th. High winds can cause downed trees and power lines and flying debris.  The safest place to be during high winds is indoors.  If you are caught outside during high winds, take cover next to a building or under a shelter.  Watch for flying debris.  Tree limbs may break and loose objects may fall.
In advance of any wind event, be sure your property is secure. Remove any dead trees or overhanging branches near structures, loose roofing materials and objects in yards, patios, roofs or balconies that could blow away. Bring in unsecured objects from patios and balconies and secure outdoor objects such as lawn furniture or garbage cans that could blow away and cause damage or injury.  Postpone outdoor activities if a wind advisory or high wind warning has been issued. To find more information about preparing for high winds and high wind safety precautions, please visit www.weather.gov/mlb/seasonal_wind_rules.
Several local public safety agencies, including Sonoma Valley Fire & Rescue Authority, are up-staffing in response to the critical fire weather and local fires. Stay alert and be aware of your surroundings; for up-to-date emergency information for Sonoma County, visit socoemergency.org
POTENTIAL POWER SHUTOFF SATURDAY (10/26) THROUGH MONDAY (10/28)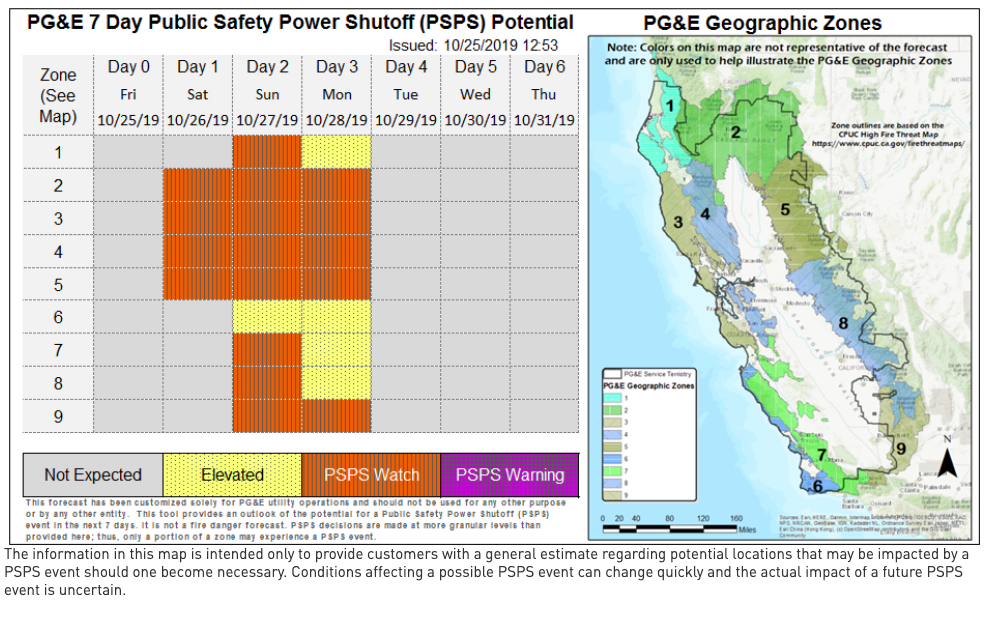 Due to these weather conditions, PG&E informed City and County officials that a large portion of the North Bay including Sonoma County is under a Public Safety Power Shutoff  (PSPS) "Watch" status that will likely lead to a de-energization event beginning in the afternoon Saturday, October 26th. The County and cities are working with the National Weather Service and PG&E to monitor this potential event. Visit PG&E's PSPS page for more information about this event and. To find more information about preparing for power outages, please visit www.sonomacity.org/extended-power-outages.
While the PSPS is not currently expected to impact a majority of the City including the plaza, the status could change as weather forecasts evolve. We recommend checking the PG&E "Potential PSPS Address Lookup Tool" to find out if your location will be impacted. Please keep in mind that this will only alert to planned power outages, and that the high wind conditions could result in unplanned power outages as well.
The City of Sonoma is preparing to activate the Emergency Operations Center and will open a local Charging Center in partnership with Sonoma County and the Sonoma Community Center at the Veteran's Memorial Building at 126 1st St W from 8:00 AM – 6:00 PM beginning Sunday, October 27th if PG&E de-energizes as predicted.
PG&E will provide updates to customers and the City when information is available. Customers can update their contact information to receive notifications sent by PG&E online (https://m.pge.com/#login) or by phone, in English at 1-866-743-6589and in Spanish at 1-866-743-6589. Residents can also check if their home is in an area where power may be shut off on PG&E's website.
Additional Information
Call 211 to find resources on non-emergency event information like community resource center locations, power shutoff area updates, and other social services.
If cellular/internet communications are not working, information will be available through the KSVY 91.3 radio station and will be posted at the Veteran's Memorial Building.
Learn what to do in an emergency without cell phone coverage, click here and then scroll down to "Answers" to see the information.