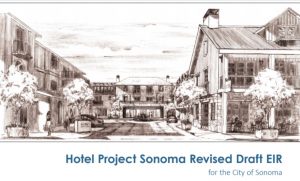 In July of 2017, the City Council took action on an appeal of the Planning Commission's decision to certify an Environmental Impact (EIR) prepared for the West Napa Street Hotel project. The City Council voted to uphold the appeal to direct staff and the environmental consultants to prepare a Revised EIR addressing specified topics, including an updated transportation analysis and an expanded alternatives analysis.
The Revised Draft EIR has been completed and is now available for review and comment. It is available online, download now.
The comment period will end on September 13, 2018. During the comment period, a public hearing will be held before the Planning Commission to allow an opportunity for oral comments to be made. However, this hearing date has not yet been set.
Written and e-mail comments may be submitted to:
Planning Department
City of Sonoma
No. 1 The Plaza
Sonoma, CA 95476
 or Email planning@sonomacity.org
SaveSave