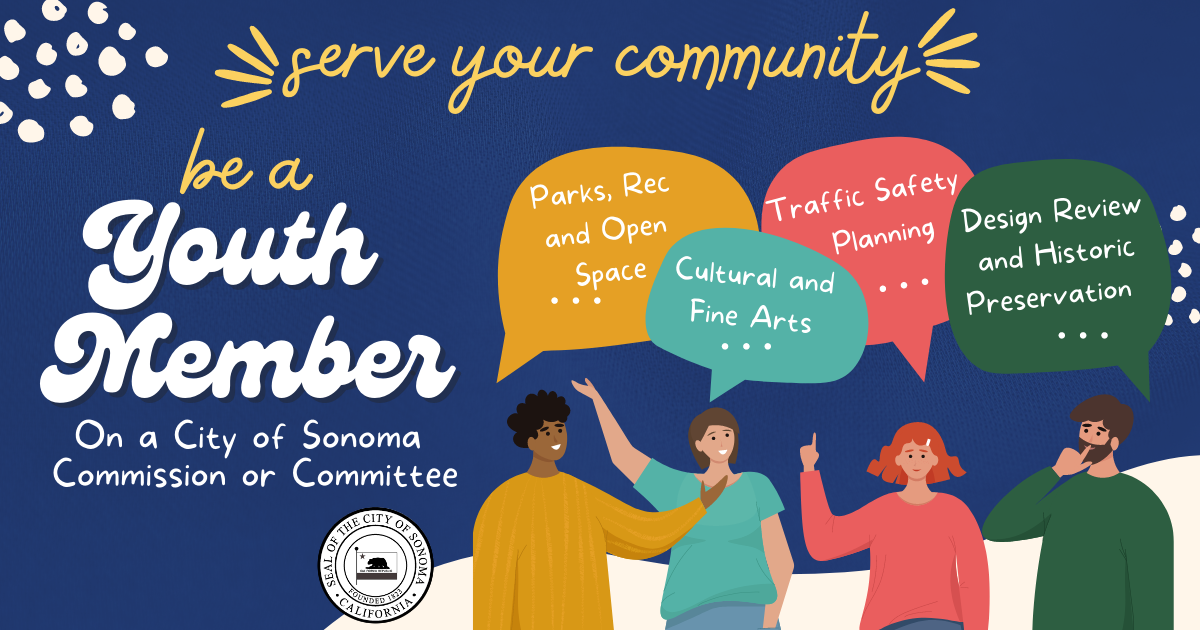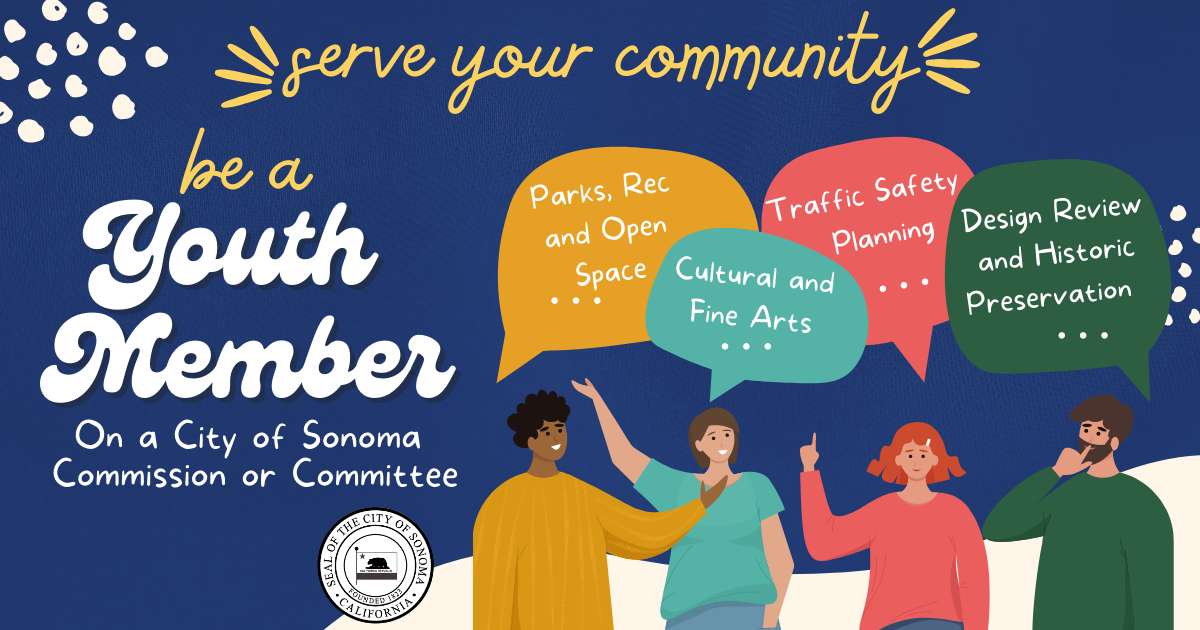 Public involvement is crucial to the City's decision-making process and appointed advisory bodies in the form of commissions and committees are an important and valued part of our City government. These commissions and committees are charged with focusing on key issues within Sonoma and then providing feedback, recommendations, and support to Sonoma City Council on those issues.
This year, the City Council added a non-voting Youth Member position to each City commission and committee.  To be eligible to serve, individuals must be fourteen to eighteen years old, must be a resident of the City or the greater Sonoma Valley, and serve one-year terms.
The City of Sonoma is currently seeking youth members for the following City commissions and committees:
Design Review and Historic Preservation Commission (DRHPC)

The goal of the DRHPC is to protect the architectural heritage of Sonoma and promote excellence in town design through its review of proposed projects and developments.
Parks, Recreation and Open Space Commission (PROS)

PROS advises the City Council on matters related to the preservation and enhancement of the parks, recreational facilities, and open space under the jurisdiction of the City.
Traffic Safety Committee

The Traffic Safety Committee reviews complaints and suggestions submitted by residents regarding traffic safety issues. It advises the City Council on all physical measures proposed as solutions to those issues.
Cultural and Fine Arts Commission (CFAC)

The role of the CFAC is to develop and establish a balanced arts and cultural program for the City.  Each year they select and honor the "Treasure Artist of the Year" and sponsor the "Student Creative Arts Awards" program providing cash awards to deserving students.
Planning Commission

The Planning Commission's responsibilities include, but are not limited to, the development of the General Plan and Development Code, review and action on environmental impact reports, subdivision, and parcel maps, use permit and variance applications, and special studies and reports.
The City is also accepting applications for several other positions, see a current list of open positions.
Interested individuals should apply electronically on the City's Civic Web Portal, https://sonomacity.civicweb.net. The online application can be accessed by selecting the "Commission Application" tile and then "Apply." Applications will be accepted until 5:00 p.m. Monday, March 13, 2023.
Learn more about the City's Commissions and Committees.