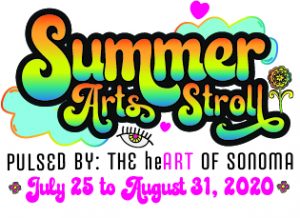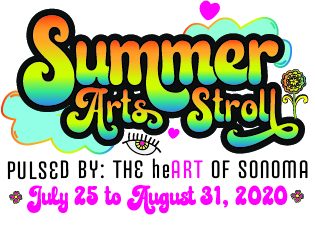 The Sonoma Valley Arts Task Force (Task Force) is pleased to announce its next initiative, the Summer Arts Stroll. Sponsored by the City of Sonoma and Sonoma Plein Air Foundation, the Summer Arts Stroll is a self-guided, outdoor art-viewing experience – complete with a virtual map and decals identifying exhibit locations for patrons to view when it's convenient for them, from the sidewalk. Artwork will be visible to the public through windows or in outdoor areas beginning on July 25, 2020, and will be on display through August 31, 2020.
The Summer Arts Stroll is part of the Valley-wide "Heart of Sonoma" community art project organized by the Task Force which formed just after the first Shelter-in-Place order was issued with the mission to "Build Community Through Art." The Task Force, comprised of 24 Sonoma Valley non-profits, worked collaboratively to launch #heARTofSONOMA in May 2020, which invites people sheltering in place to create art at home in response to creative prompts provided by art leaders and share it by displaying them and/or posting an image or recording using the hashtag #heARTofSONOMA. The project also includes the artist heart series installations of 22 large scale, colorful, artist-designed "heART works" currently on display in front of Sonoma's City Hall, in Boyes Hot Springs, The Chamber of Commerce, and at the Sonoma Community Center.
For this next phase of the project, the Task Force is working with local artists and youth to install and show their work for the Summer Arts Stroll in storefronts, public areas, residences and their studios. "We took inspiration from the Sonoma Art Walk's first Thursday series where artists are paired with businesses, and with the help of our community partners, adapted the concept to meet COVID-19 health and safety requirements" Kala Stein, Director of Ceramics & Arts at Sonoma Community Center. "This self-guided experience will bring art to the public eye throughout the Valley while connecting businesses with local artists and creative youth. We truly believe that art and art-making are essential to the quality of life, especially now."
The pandemic and resulting shelter-in-place orders have had a notable impact on artists. With many venues closed or operating with limited capacity and the cancellation of summer art fairs and events, it is estimated that 95% of artists have lost income. "It's no secret that artists, like businesses, have faced unprecedented challenges and loss of revenue due to the pandemic and shelter-in-place orders," says Mark Bodenhamer, Executive Director of the Sonoma Valley Chamber of Commerce. "The Summer Arts Stroll is a win/win for artists and businesses; artists get new venues to show and potentially sell their work, and businesses get increased visibility and foot traffic." Artists interested in participating in the Summer Art Stroll are invited to sign up at forms.gle/GtzvJStuw4bDVkQW9. Businesses interested in hosting an artist or displaying artwork should mail gail.duffley@zoho.com. There are no fees to show art and artists can sell their work directly to patrons.
All are invited to take part in the Summer Arts Stroll. Patrons are advised to maintain a  6' physical distance from those outside of their household and wear a facial covering when 6' of physical distance cannot be maintained. Participating artists and the location of their artwork will be made public through @heartofsonoma  Facebook and @heart.of.sonoma Instagram pages, and through an interactive Google Map that will be available at www.sonomacity.org/summer-arts-stroll.
Learn more about the Sonoma Valley Arts Task Force and Heart of Sonoma at www.sonomacity.org/sonoma-arts-task-force.