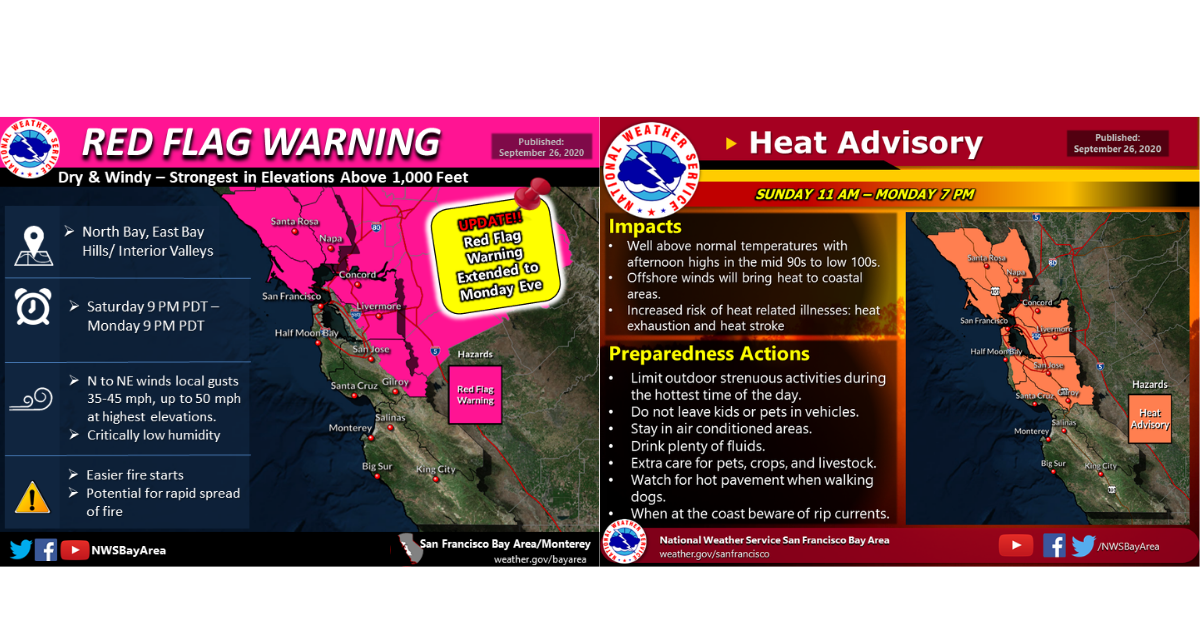 UPDATE: SUNDAY, 9/27, 11:40 AM
Hot, dry and windy weather has led to several warnings and advisories for the North Bay Area. As evidenced by the Glass Fire in St. Helena this morning, any fires that develop will spread rapidly in these conditions. It is important that we all use extreme caution during periods of high fire danger. One less spark could mean one less wildfire. See the CAL FIRE website for tips on preventing wildfires.
As of this posting, there are no new active fires in Sonoma County.  Please take some time to read through the following updates and take measures to prepare your household in case of an emergency.  Ensure that you are signed up to receive local emergency alerts and refresh your go bags and emergency preparedness kits today.
SMOKE DRIFT FROM GLASS FIRE IN NAPA & SIERRA WILDFIRES
Visible smoke and light ash have drifted into Sonoma Valley from the Glass Fire in St Helena. In addition, elevated smoke from the Sierra wildfires being driven by offshore winds is expected to gradually move closer to our area this evening. Smoke from wildfires can lead to unhealthy air quality. Check www.purpleair.com for the latest air quality index (AQI) numbers.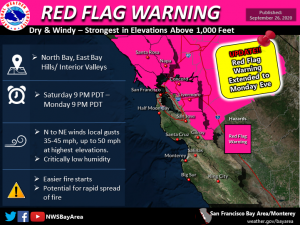 RED FLAG WARNING EXPANDED TO ENTIRE NORTH BAY, EXTENDED THROUGH 9:00 PM MONDAY
The US National Weather Service has extended the Red Flag Warning for the entire North Bay to Monday (9/28) at 9:00 PM (formerly 8:00 AM). A Red Flag Warning means that critical fire weather conditions are either occurring now…or will shortly. A combination of strong winds, low relative humidity and warm temperatures can contribute to extreme fire behavior. Read the full warning message for details.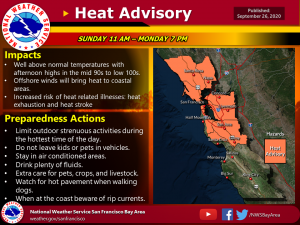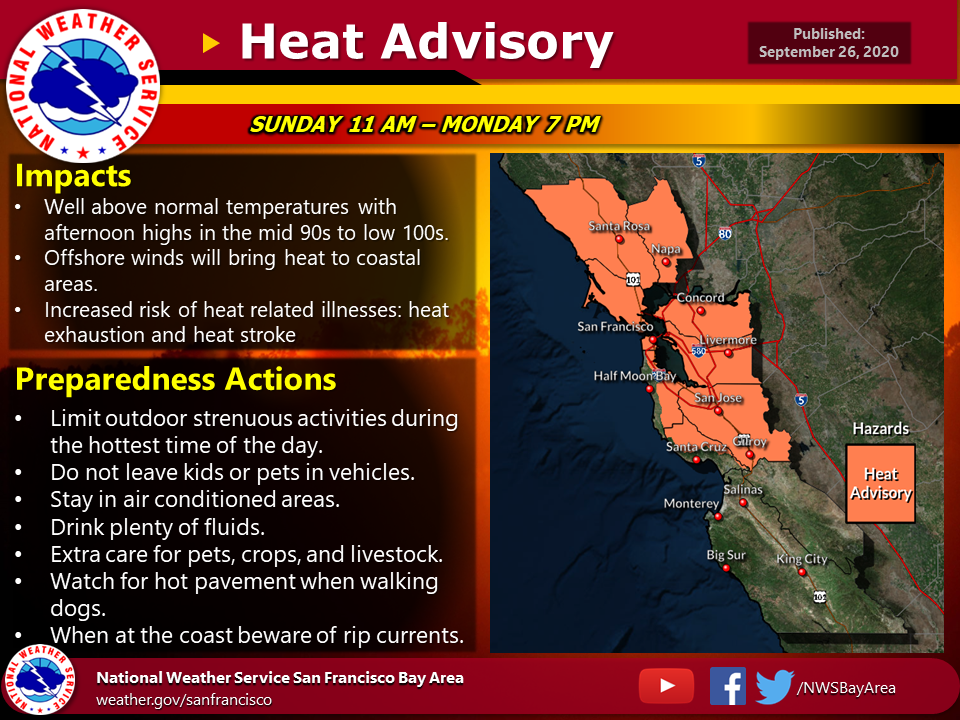 HEAT ADVISORY IN EFFECT THROUGH 7:00 PM MONDAY
The NWS also issued a heat advisory that is in effect until Monday (9/28) at 7:00 PM. Excessive heat poses a significant health risk, particularly to the elderly, young children, pregnant women and those with chronic diseases. Learn about the signs of heat exhaustion and heatstroke in English and Spanish.
PG&E PUBLIC SAFETY POWER SHUTOFF, CITY OF SONOMA NOT CURRENTLY EXPECTED TO BE IMPACTED
Thank you, and Stay Safe Sonoma!