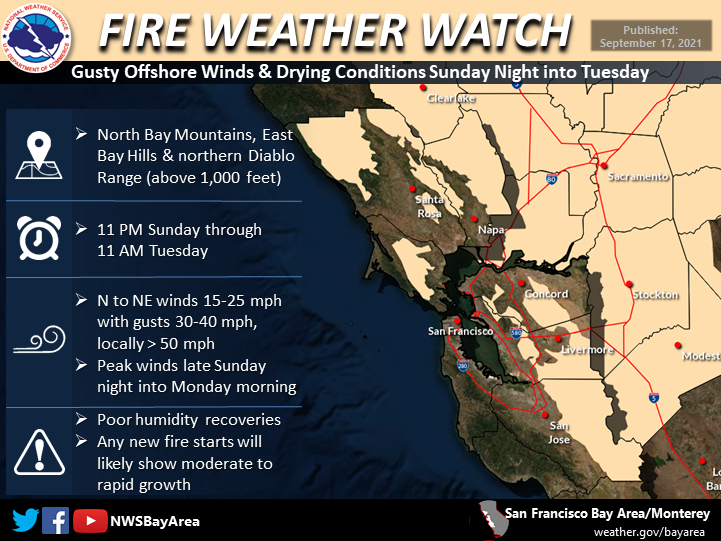 UPDATE 9/19 1:00 PM: The National Weather Service upgraded the Fire Weather Watch issued yesterday to a Red Flag Warning for much of the Bay Area including the North Bay Hills due to dry northerly offshore winds that are expected to arrive at 11 pm Sunday night. The initial burst of winds will occur while humidity values remain fairly moist. However, the dry offshore winds will begin rapid drying of the atmosphere with humidity values dropping quickly by Monday morning. Read the full update.
————–
The National Weather Service has issued a Fire Weather Watch for parts of the Bay Area including the North Bay Hills in effect from 11:00 p.m. Sunday (9/19) to 11:00 a.m. Tuesday (9/21) due to forecasted dry offshore winds, low humidity, and dryer than normal vegetation – but all contingent on how much rain falls this weekend. The fire weather watch may be canceled in the event of heavy rain or conversely upgraded to a red flag warning in a scenario where the cold front stalls farther north or fails to deliver rain.
Wind speeds 15 to 25 mph with gusts 30 to 40 mph, locally up to 50 mph at the ridge tops are expected beginning Sunday night. Weaker winds at lower elevations. Read the full warning from the National Weather Service.
A Fire Weather Watch means that critical fire weather conditions are forecast to occur. Listen for later forecasts and possible Red Flag Warnings or Public Safety Power Shutoffs.  As always, please make sure that you are signed up for SoCo & Nixle alerts and are prepared in case of an emergency, learn more on our Emergency Preparedness page.