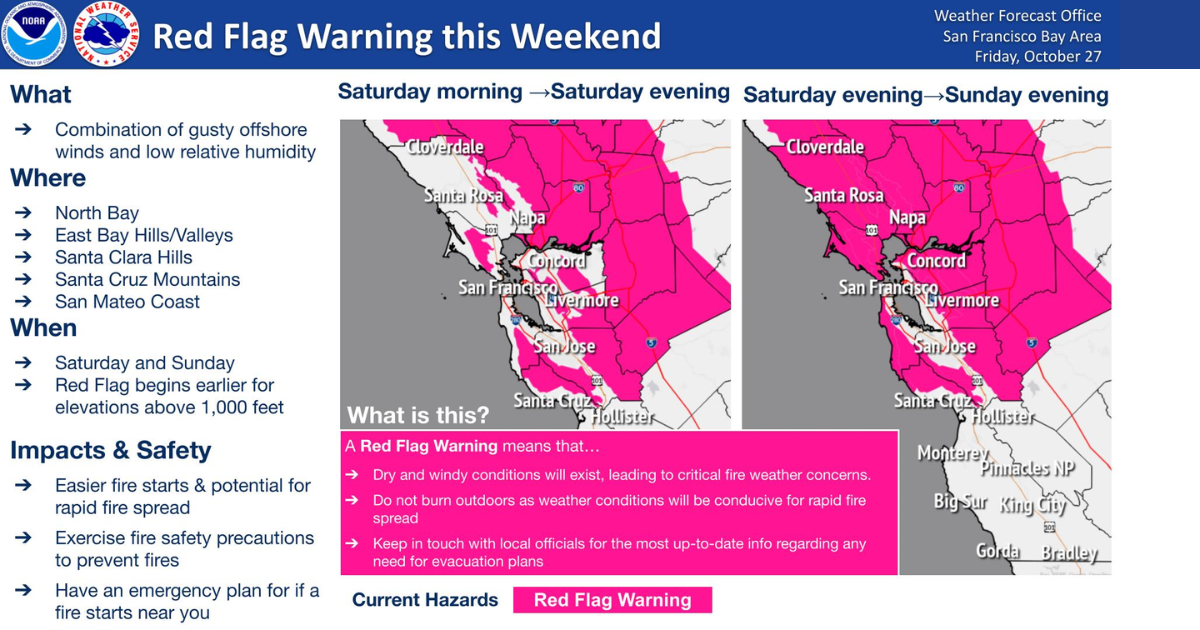 UPDATE 10/27,  1:40 PM – The National Weather Service has upgraded the fire weather concerns to a Red Flag Warning for the North Bay Interior Mountains.
North-northeast winds are expected to develop early Saturday morning across the ridges of the North Bay, East Bay, and the Santa Cruz Mountains. Dry, offshore winds will peak late Saturday into Sunday morning, which will result in elevated fire weather concerns. During the overnight hours, offshore winds could mix down into the interior valleys of the North Bay and East Bay. Gusts of 30 to 40 mph will be possible with locally higher gusts up to 50 to 60 mph across ridgetops and higher peaks.
— Original Post —
This weekend brings wind and fire weather concerns. The National Weather Service has issued a Fire Weather Watch and a Wind Advisory for portions of Sonoma Valley this Saturday, October 28th and Sunday, October 29th.
WHAT: Limited overnight humidity recoveries of 20-35% and daytime humidities of 15-25% are expected. This combined with gusty northerly winds of up to 45 mph Saturday afternoon into Sunday will contribute to elevated fire weather conditions.
WHERE: North Bay interior mountains – ridge tops and high terrain, generally above 1,000 feet in Sonoma County.
WHEN: 5 a.m. Saturday through 5 p.m. Sunday.
WHY: The combination of gusty winds and low humidity can cause fire to rapidly grow in size and intensity.
IMPACTS & SAFETY:
Easier fire starts and potential for rapid fire spread.
Exercise fire safety precautions to prevent fires.
Have an emergency plan for if a fire starts near you.
A Fire Weather Watch means that critical fire weather is possible. Critical conditions include warm temperatures, low humidity and strong gusty winds. Be prepared!
A Wind Advisory means that strong and gusty winds are expected. Damage to trees and power lines is possible.
Keep up with forecast changes and do your part – one less spark is one less wildfire. For emergency preparedness tips, visit our emergency preparedness web pages.