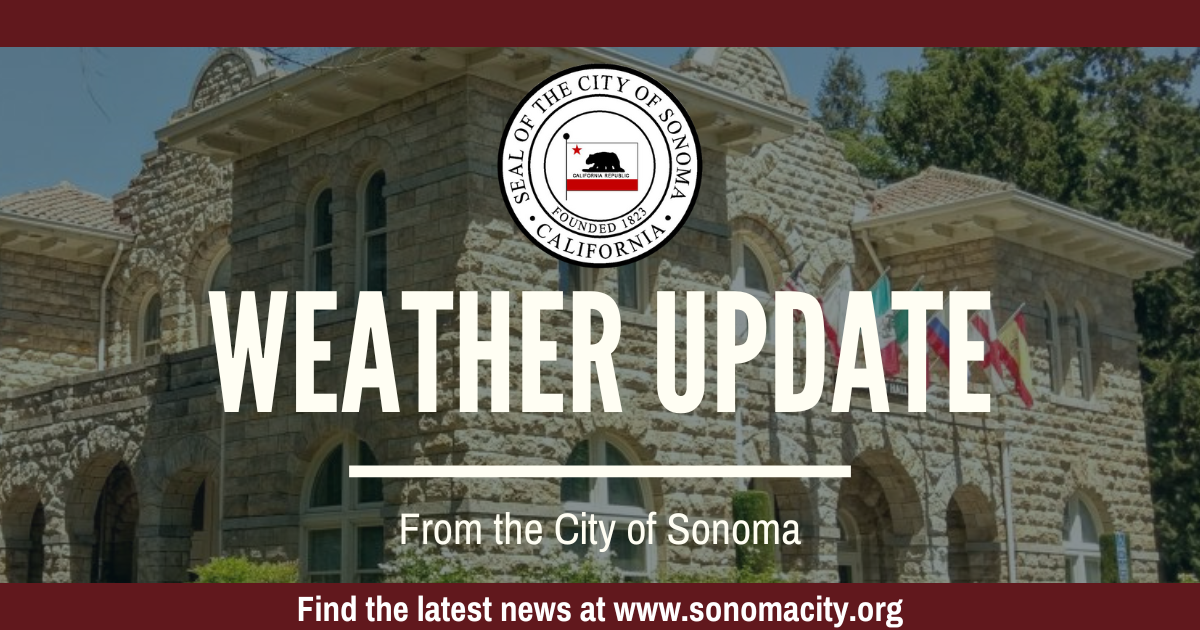 The atmospheric river has arrived. Widespread flooding and wind impacts are expected from Wednesday into Thursday, according to the National Weather Service. A flood watch and high wind warning have been issued for the region. See our previous post for more information.
There is no major flooding or road closures in Sonoma city limits as of this posting at 5 pm, Wednesday, January 4th. City of Sonoma's Public Works crews will be on call to address any localized flooding due to blocked storm drains as needed. Please check our emergency updates page for current information.
---
Sonoma County opens Emergency Operations Center in response to storms and possible flooding; issues public safety advisory
The County of Sonoma issued an emergency proclamation authorizing the activation of the county's Emergency Operations Center today to monitor and respond as needed to three major storms expected through Wednesday, Jan. 11. Local emergency and weather officials are advising Sonoma County residents to avoid unnecessary travel and prepare for high winds, flash flooding, downed trees and the potential for power outages throughout the region, as well as the potential for landslides or debris flows in burn scar areas. Read the full press release in English and Spanish
---
Help for Animals in Flooded Areas
Sonoma CART (Community Animal Response Team) has been activated to help owners evacuate animals from flooded areas. The Santa Rosa fairgrounds are available for animal sheltering and FEMA trained evacuation volunteers and livestock trailers are working side by side with emergency responders to help. Owners can call Sonoma CART hotline: 707-861-0699 for assistance.
---
Downed Powerlines and Potential Power Outages
Charge all your devices and have a flashlight readily available with fresh batteries in case of a power outage. If you see a downed powerline assume it's live, keep yourself and others away and call 911 and PG&E immediately at 1-800-743-5002. If you need updates on outages go to pge.com or call 1-800-743-5000
---