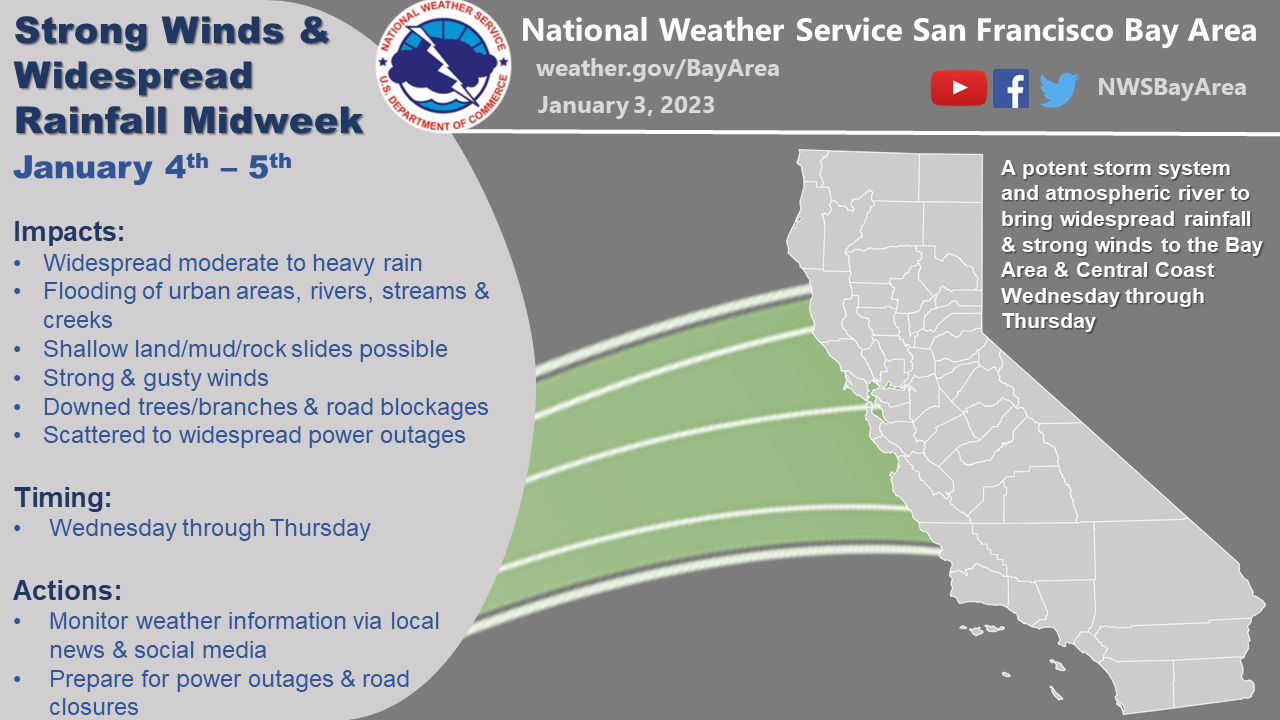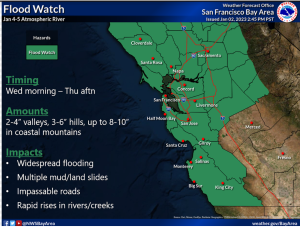 Weather Update: An atmospheric river is heading our way on January 4th and 5th. Widespread flooding and wind impacts are expected from Wednesday into Thursday, according to the National Weather Service. A flood watch and high wind warning have been issued for the region.
City of Sonoma's Public Works crews will be on call to address any localized flooding due to blocked storm drains as needed.
Road Safety, Turn Around Don't Drown: Some roads in Sonoma County may flood – DO NOT attempt to cross flooded roadways. Stay out of moving water — it doesn't take much for a vehicle to float. Six inches of water is enough to hit the bottom of most passenger cars, flooding the exhaust and leaving it immobile.
Alerts & Advisories: Sign up to receive alerts from local agencies to your phone and/or email.
County of Sonoma Emergency Alerts: SoCo Alert, use the link or call (707) 565-1369 for more information.
Sonoma Sheriff: Nixle, use the link or TEXT YOUR ZIP CODE TO 888777 to opt-in for mobile alerts.
City of Sonoma: Subscribe to receive emergency updates via email.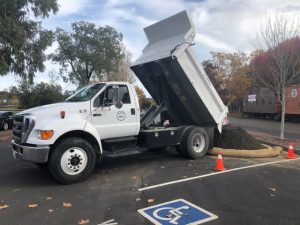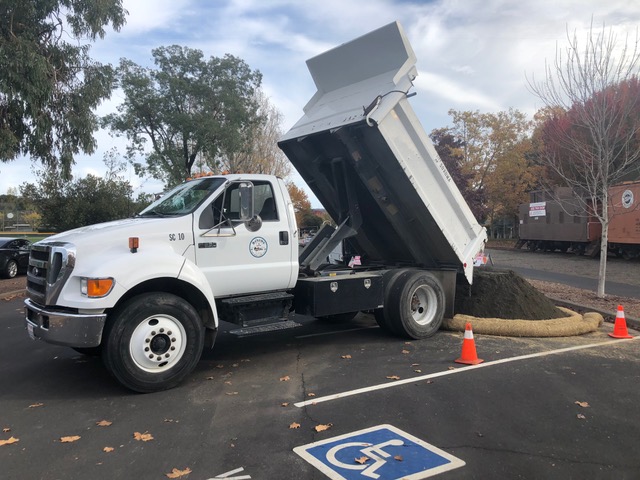 Sandbags: Free sandbags are now available to City residents. Pick up bags at City Hall, limit 10 bags per resident, while supplies last. Additional bags are available at Friedman's Home Improvement Center (1360 Broadway).
Free sand is available to City residents in the parking lot at Depot Park (270 1st ST W). The sandbag filling station at Depot Park is self-serve; please bring your own shovel. Read our Sandbag Instructions to learn how to fill, stack, and construct sandbags properly.
Friedman's  Home Improvement (1360 Broadway) also has free sandbags (limit 20 per household) and a self-serve sandbag filling station. Friedman's is currently out of prefilled sandbags, but they are expecting a delivery tomorrow (Wednesday).
Warming Station: Homeless Action Sonoma (HAS) is operating a navigation center and warming station at 867 West Napa Street (site of the former Community Café). The center is open from 2:00 p.m. until 10:00 a.m. seven days a week, for anyone who needs a place to get out of the wet and cold nights.
Downed Powerlines and Potential Power Outages: Charge all your devices and have a flashlight readily available with fresh batteries in case of a power outage. If you see a downed powerline assume it's live, keep yourself and others away and call 911 and PG&E immediately at 1-800-743-5002. If you need updates on outages go to pge.com or call 1-800-743-5000
For emergencies, dial 911.  The non-emergency number for public safety dispatch is (707) 996-3601. Visit our Emergency Preparedness page for more information including an Emergency Supplies Checklist and visit Ready.gov/floods to learn more about how you can protect yourself, your family, and your community in the event of flooding.