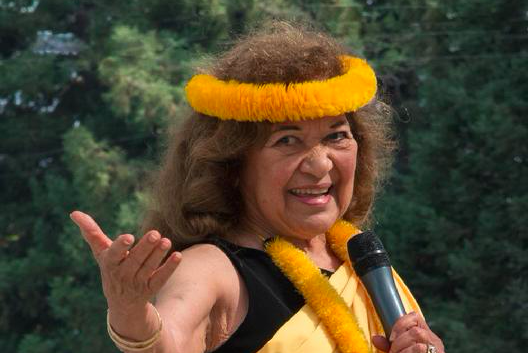 The Cultural and Fine Arts Commission of Sonoma will host a reception to honor local Betty Ann Bruno who was recently named the 2020 Sonoma Treasure Artist of the Year.
Members of the public are invited to attend the event which will be held at 6:00 p.m. Tuesday, February 11, 2020, at the Vintage House, 264 First Street East, in Sonoma. Reservations are required.
In selecting Ms. Bruno, the Commission noted her contributions to the cultural growth of Sonoma Valley through her commitment to sharing her "aloha" spirit.
Reservations for the wine and hors d'oeuvres reception will be accepted until 5 p.m. Friday, February 7 , and must be paid in advance. The cost is $25 per person.
Tickets can be purchased online on Eventbrite, or mail payment via check or cash by mail to: City of Sonoma, Attn: City Clerk, No. 1 The Plaza, Sonoma CA 95476. For additional information, contact City Clerk Rebekah Barr, 933-2216 or Rita Gipson, 933-2218.
Ms. Bruno is being recognized for her years of commitment to the community through the instruction of hula to individuals of all age groups.
One of the common themes of all the nominations received for Ms. Bruno was how everyone became a member of her "family".
In one of her many nomination letters, one individual said "Betty Ann, who turned 88 years old this month, truly is a treasure. Her warm personality, her friendly inclusiveness, her amazing enthusiasm for all things Hawaiian, her incredible energy and her genuine caring for others make her a delight to be around." Another said, "She deserves this honor – she's a TRUE treasure!"