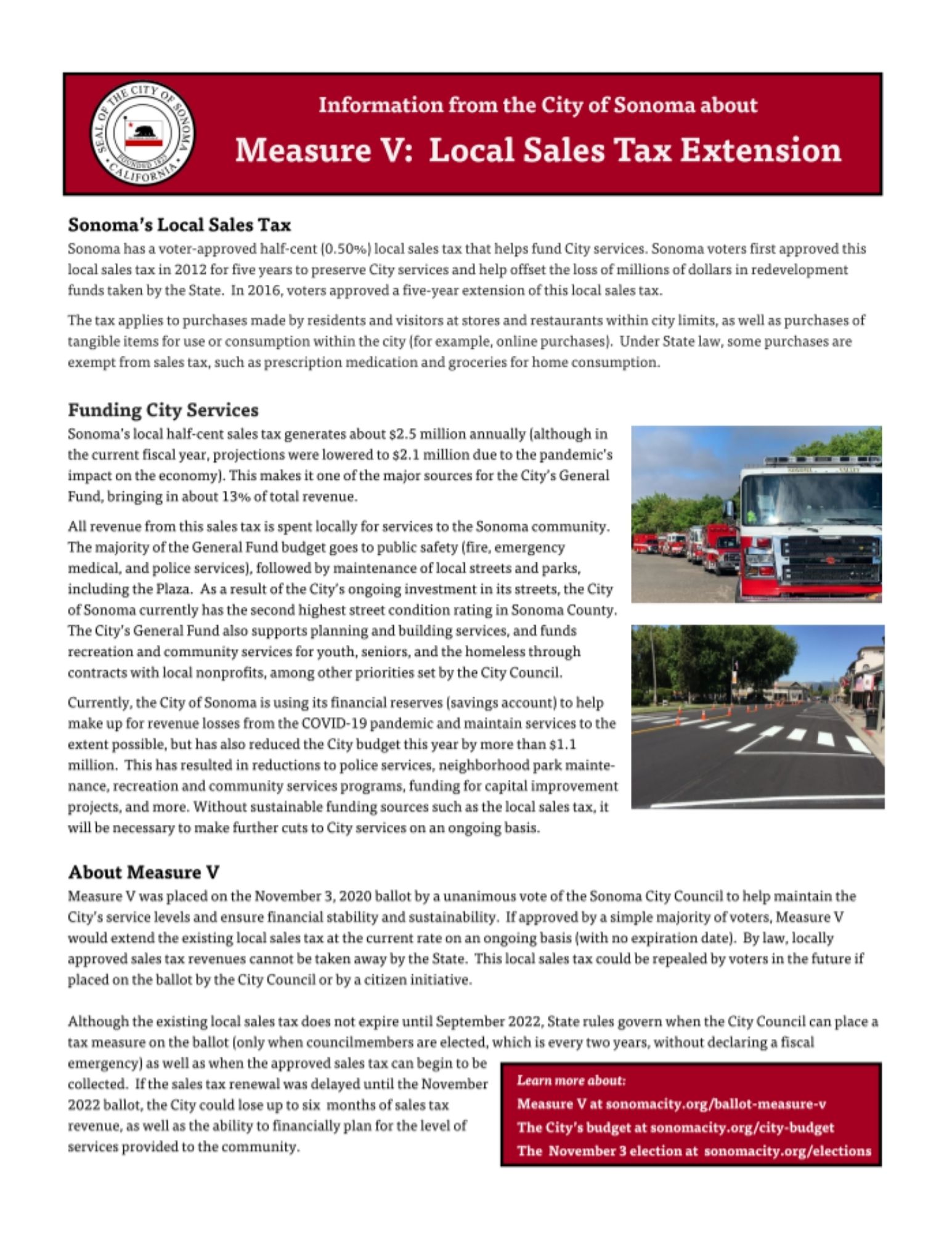 Measure V is one of four local ballot measures before voters in the City of Sonoma this election.
Sonoma's Local Sales Tax
Sonoma has a voter-approved half-cent (0.50%) local sales tax that helps fund City services.  Sonoma voters first approved this local sales tax in 2012 for five years to preserve City services and help offset the loss of millions of dollars in redevelopment funds taken by the State.  In 2016, voters approved a five-year extension of this local sales tax.
The tax applies to purchases made by residents and visitors at stores and restaurants within city limits, as well as purchases of tangible items for use or consumption within the city (for example, online purchases).  Under State law, some purchases are exempt from sales tax, such as prescription medication and groceries for home consumption.
Funding City Services
Sonoma's local half-cent sales tax generates about $2.5 million annually (although in the current fiscal year, projections were lowered to $2.1 million due to the pandemic's impact on the economy). This makes it one of the major sources for the City's General Fund, bringing in about 13% of total revenue.
All revenue from this sales tax is spent locally for services to the Sonoma community.  The majority of the General Fund budget goes to public safety (fire, emergency medical, and police services), followed by maintenance of local streets and parks, including the Plaza.  As a result of the City's ongoing investment in its streets, the City of Sonoma currently has the second highest street condition rating in Sonoma County. The City's General Fund also supports planning and building services, and funds recreation and community services for youth, seniors, and the homeless through contracts with local nonprofits, among other priorities set by the City Council.
Currently, the City of Sonoma is using its financial reserves (savings account) to help make up for revenue losses from the COVID-19 pandemic and maintain services to the extent possible, but has also reduced the City budget this year by more than $1.1 million.  This has resulted in reductions to police services, neighborhood park maintenance, recreation and community services programs, funding for capital improvement projects, and more. Without sustainable funding sources such as the local sales tax, it will be necessary to make further cuts to City services on an ongoing basis.
About Measure V
Measure V was placed on the November 3, 2020 ballot by a unanimous vote of the Sonoma City Council to help maintain the City's service levels and ensure financial stability and sustainability.  If approved by a simple majority of voters, Measure V would extend the existing local sales tax at the current rate on an ongoing basis (with no expiration date).  By law, locally approved sales tax revenues cannot be taken away by the State.  This local sales tax could be repealed by voters in the future if placed on the ballot by the City Council or by a citizen initiative.
Although the existing local sales tax does not expire until September 2022, State rules govern when the City Council can place a tax measure on the ballot (only when councilmembers are elected, which is every two years, without declaring a fiscal emergency) as well as when the approved sales tax can begin to be collected.  If the sales tax renewal was delayed until the November 2022 ballot, the City could lose up to six  months of sales tax revenue, as well as the ability to financially plan for the level of services provided to the community.