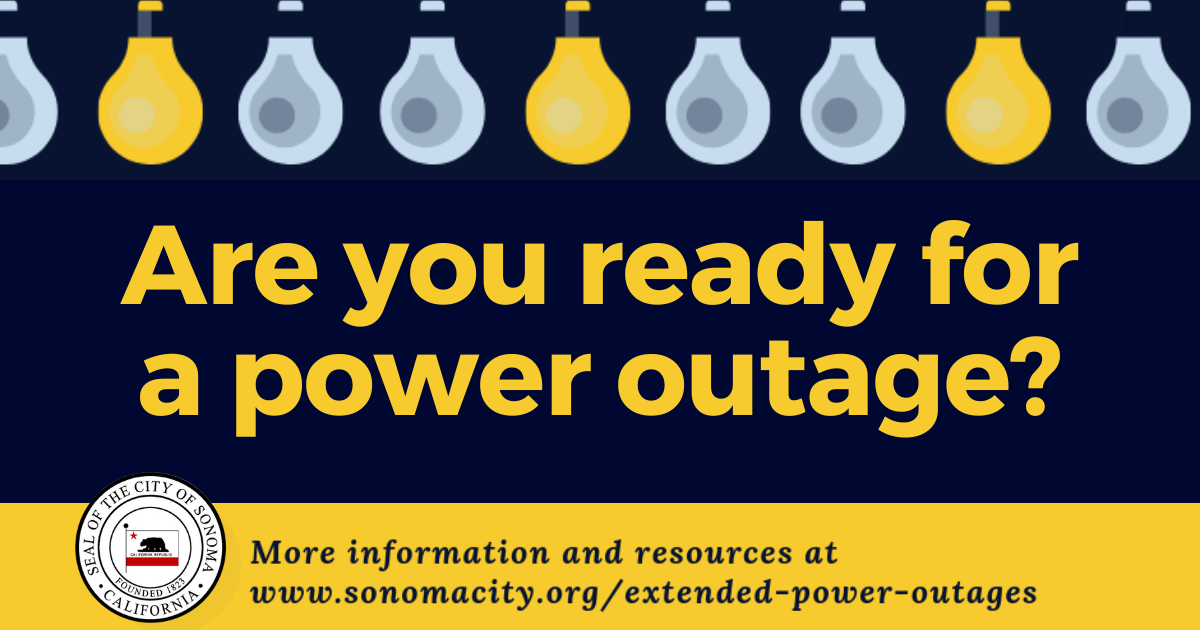 Power outages can happen for many reasons, and being prepared is an important part of your emergency plan.  During wildfire season, Sonoma residents need to be prepared for the possibility of extended power outages related to Pacific Gas & Electric's efforts to reduce wildfire risks (known as a Public Safety Power Shutoff or PSPS).
Due to the location of transmission lines supplying power to Sonoma County, it is possible that a PSPS event could affect large areas of the region at once, including the City of Sonoma and the Sonoma Valley.  As a community and as individuals, we need to prepare for the effects of a potentially widespread power outage that could span multiple days. PG&E may shut off the power before and during a time of extreme wildfire danger and it may take several additional days following the weather event for lines to be inspected so that power may be restored.  You can also download the PG&E PSPS Fact Sheet or the more detailed PSPS program summary.
PG&E will attempt to notify customers of a potential PSPS event 48 hours in advance if possible, but notification could be as little as a few hours in advance. To be certain that you receive notifications from PG&E, go to pge.com/mywildfirealerts or call 1-866-743-6589 and update your contact information. PG&E has a process for additional notifications to customers registered with their Medical Baseline Program.  Additionally, be sure you are signed up for alerts through SoCoAlerts and Nixle (links can be found at socoemergency.org and at sonomacity.org).  You can also sign up for Nixle by texting your zip code to 888777).  PG&E has developed a 7-day forecast tool to help provide an outlook for the potential of a PSPS event.
Assembling your emergency kit, planning for communications with family, and preparing for possible closures of schools is critical, as is understanding the impacts on an extended power outage on fueling your car, using an ATM, buying groceries, and even operating your garage door opener. Take key steps now to prepare.  Key safety reminders include:
When power to traffic signal lights is out, the intersection becomes a four-way stop by default in accordance with the California Vehicle code. Please use caution.
Learn how to open your garage door manually. When power is out, automatic garage doors openers will not function.  Refer to your automatic garage door opener user manual and practice opening your garage by hand.
If you or someone you care for is reliant on electricity-dependent medical devices or refrigeration for medications, have a plan in place to mitigate issues during an extended power outage.
If considering use of alternative power sources such as a generator, be sure to review the appropriate safety materials. Incorrect generator use can lead to carbon monoxide (CO) poisoning.
The installation of devices or wiring designed to allow for a direct connection from a generator to a building's electrical system should be installed by a qualified electrical contractor and the installation requires a permit and inspection from the City Building Department. Improper installation can lead to dangerous electrical hazards.
The City of Sonoma, Sonoma County Office of Emergency Management, Sonoma Police Department / Sonoma County Sheriff's Office, and Sonoma Valley Fire & Rescue Authority are all working together to ensure that essential local government services will continue without interruption during a PSPS. The City is also working with our local community radio station as well as with our local non-profit and business organization partners to supplement our communications with the public before and during extended power outages.
We'll do our best to keep you informed of local impacts and resources during a PSPS, including any locations where you can go to charge electronic devices or just to cool off.
Power outages can happen for many reasons. Taking steps now will serve you well in the event of any kind of emergency or natural disaster that our community may face. For more information, please visit sonomacity.org/extended-power-outages and sonomacity.org/disaster-ready.  Let's work together to be prepared, help our neighbors, and stay safe. 
ADDITIONAL PREPAREDNESS RESOURCES – In addition to the references above, we have compiled additional available resources to help you better prepare for an extended power outage.