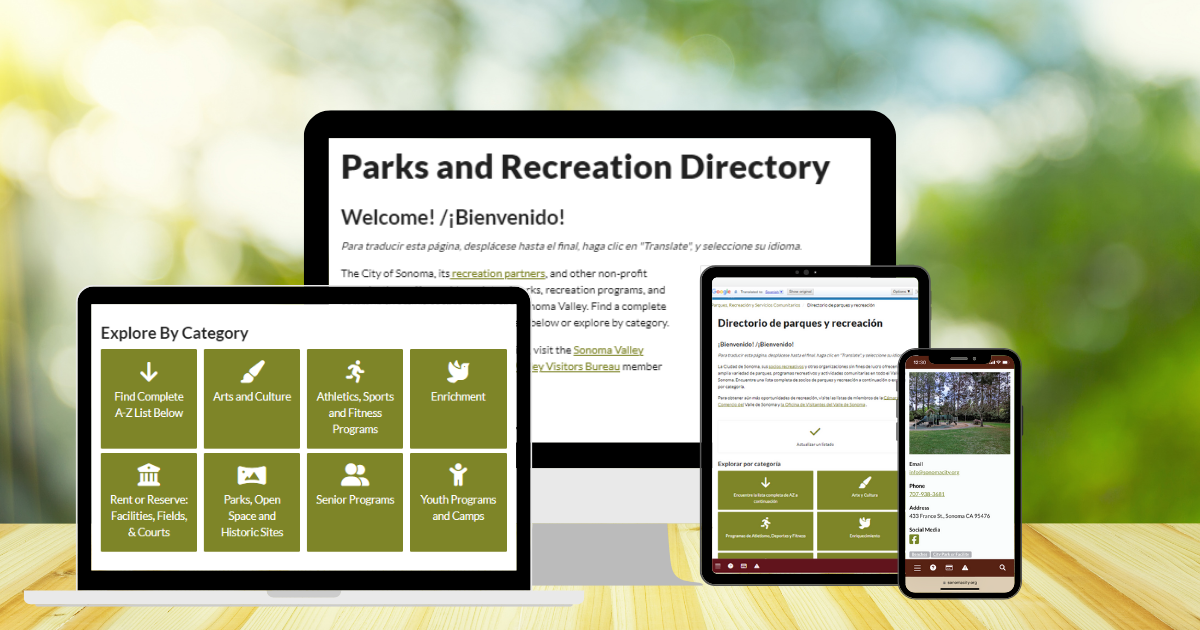 Discover all the recreational opportunities our public parks, facilities, and non-profit organizations have to offer the community on the City of Sonoma's (City) new virtual Parks and Recreation Directory (Directory)! In partnership with the Community Recreation and Parks Task Force (Task Force), the City launched an "one-stop-shop" online Service Provider Directory for information on recreational opportunities, parks, and community facilities in Sonoma Valley* as part of the City's Multi-Year Recreation and Parks Work Plan.
Recreational opportunities are an important part of life in Sonoma. The City of Sonoma does not operate its own Recreation Department but instead contracts with local non-profit organizations to provide recreation and community services through the Council-approved Recreation and Community Services Program (aka the "Community Fund"). These local providers are experts at delivering some of the services typically provided by city governments elsewhere. The Directory was created to connect the community to these organizations and the wide array of programs they offer.
Community members can now use the Directory to easily find providers that offer Arts & Culture, Athletics, Sports & Fitness, Enrichment, Senior and Youth programming as well as organizations that offer Dual Language Instruction, Scholarships, and Volunteer Opportunities. The Directory also features a comprehensive listing of Public Parks, Open Space & Historic Sites and Facilities, Fields & Courts available for Rent or Reservation.
How to Use the Directory
Select a Category.
Narrow your search by clicking or tapping the checkbox next to all the categories or amenities you want to include in your search, then click or tap "Filter" to see the results.
Click or tap on a listing for more information.
Visit a specific organization's website for program offerings, schedules, and registration information.
There is no cost to our public and non-profit partners to have a listing in the directory. Eligible organizations can request a listing by submitting a Parks and Recreation Directory Listing Entry Form on the City's website. Listing updates or corrections can also be submitted through an online form.
Please visit our Parks, Recreation, and Community Services webpages for more information and to subscribe to receive Recreation news and updates.
*For this purpose, "Sonoma Valley" is generally defined as the area North of San Pablo Bay at Sears Point, East of the Sonoma Mountain Range, South of Melita Road & Hwy 12, and West of the Mayacamas Mountain Range.