"Sonoma is a city that wants you to do what makes you happy…This town applauds that." – Cynthia Tarr, Sonoma's 2019 Treasure Artist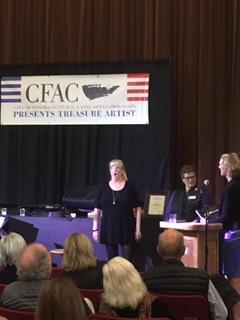 A reception to honor Cynthia Tarr, the 2019 City of Sonoma Treasure Artist, was held at the Sonoma Community Center on Tuesday, January 29th, 2019.  The celebratory evening included a presentation of a key to the City and a congressional certificate of recognition from Congressman Mike Thompson by Mayor Amy Harrington, a speech from Cynthia Tarr, and a performance by Cynthia's band the Quixotics.
During her remarks, Ms. Tarr talked about how she came to teach voice lessons at the Sonoma Community Center and the Free Spirits Gospel Choir she directs.  She encouraged people, no matter what their age, to try new things. "If you want to try painting, ceramics, dance, music…have patience with yourself…allow yourself to learn." Ms. Tarr shared lessons learned from her work with "older" signing students who often question why they are making the effort.  Her answer is simple, "If it brings you joy, that's enough."
Special thanks to Cynthia Tarr and her band The Quixotics, The Sonoma Community Center, and the Cultural & Fine Arts Commission. Annual Treasure Artists of the Year are nominated by the community and their peers for "outstanding achievement in a chosen artistic medium including the performing, visual, musical, literary and theater arts". See a list of past honorees.