Sonoma Promenade, Labor Day Weekend
---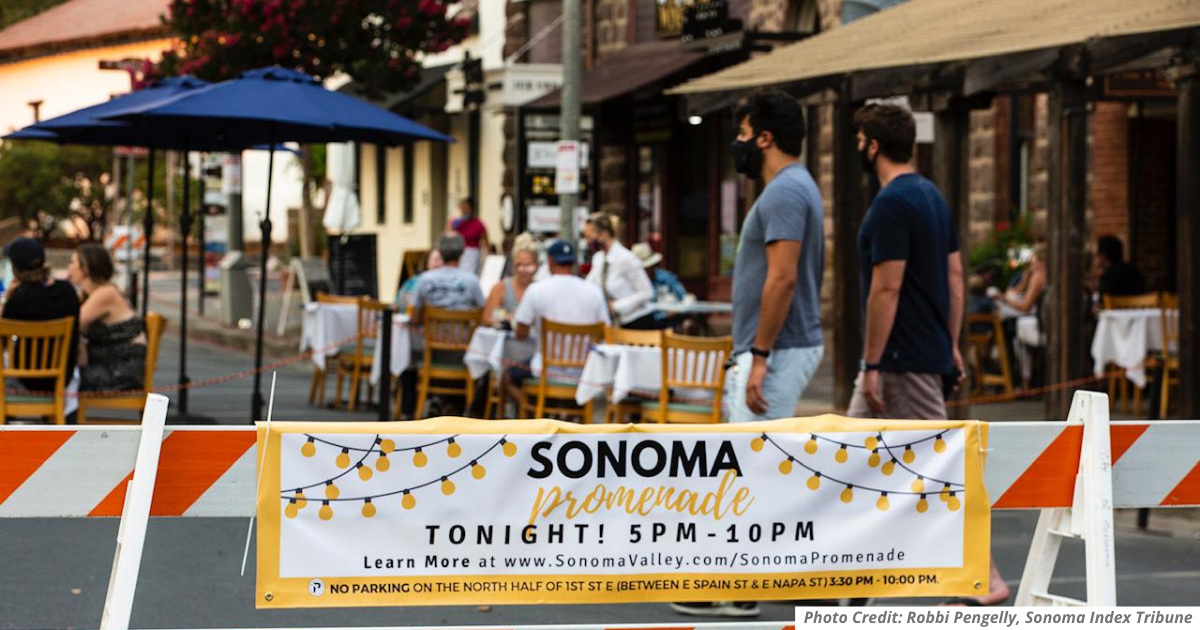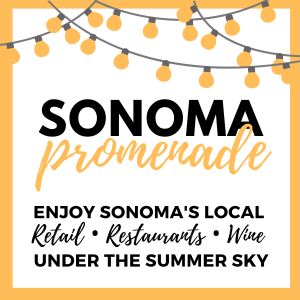 Enjoy Sonoma's Local Retail, Restaurants and Wine under the summer sky on the Sonoma Promenade this weekend!
Sonoma Promenade
Friday, September 4th – Sunday, September 6th
5:00 PM – 10:00 PM
North Half of First St E (between East Spain St & E Napa St).
To create safe opportunities for businesses to operate, the City is closing the north half of First Street East along the Plaza (between East Spain Street and East Napa Street) for Sonoma Promenade. The north half of First Street East between East Spain Street and East Napa Street will be temporarily closed to traffic and parking from 3:30 PM to 10:00 PM. All parked vehicles will be required to move by 3:30 PM. The south half of First Street East will remain open.
Sonoma Plaza Seating Area, Thursday – Sunday
SIGH joins the girl & the fig, B&V Whiskey Bar & Grille and La Casa Restaurant in the Plaza this weekend. Contact businesses directly for hours of operation and reservations.
Parklets  & Sidewalk Seating
Several downtown businesses have received City approval to set up tables and provide food and beverage service in areas on public sidewalks, public and private parking spaces including Cafe la Haye, Della Santina's, and the El Dorado Kitchen (to name a few) and a partial street closure to accommodate distanced seating for Maya Restaurant and Pangloss Cellars.
Photo Credit: Robbi Pengelly, Sonoma Index-Tribune.
Sonoma Promenade is organized in partnership with the Sonoma Valley Chamber of Commerce, Sonoma Valley Visitors Bureau, Sonoma Valley Vintners & Growers Alliance and the City of Sonoma and is part of the City's Sonoma Al Fresco program that was created to mitigate the impact of COVID-19 on Sonoma businesses by allowing businesses to temporarily add or expand their outside service options to accommodate COVID-19 related health standards.  This allows businesses to remain open and patrons to enjoy Sonoma's al fresco experiences while maintaining safe areas for pedestrians.
The schedule for street closures will be based on interest. If this is a program you would be interested in participating in, please complete the Outdoor Temporary Facility Weekend Expansion Permit and email it to Lisa Janson at Ljanson@sonomacity.org.