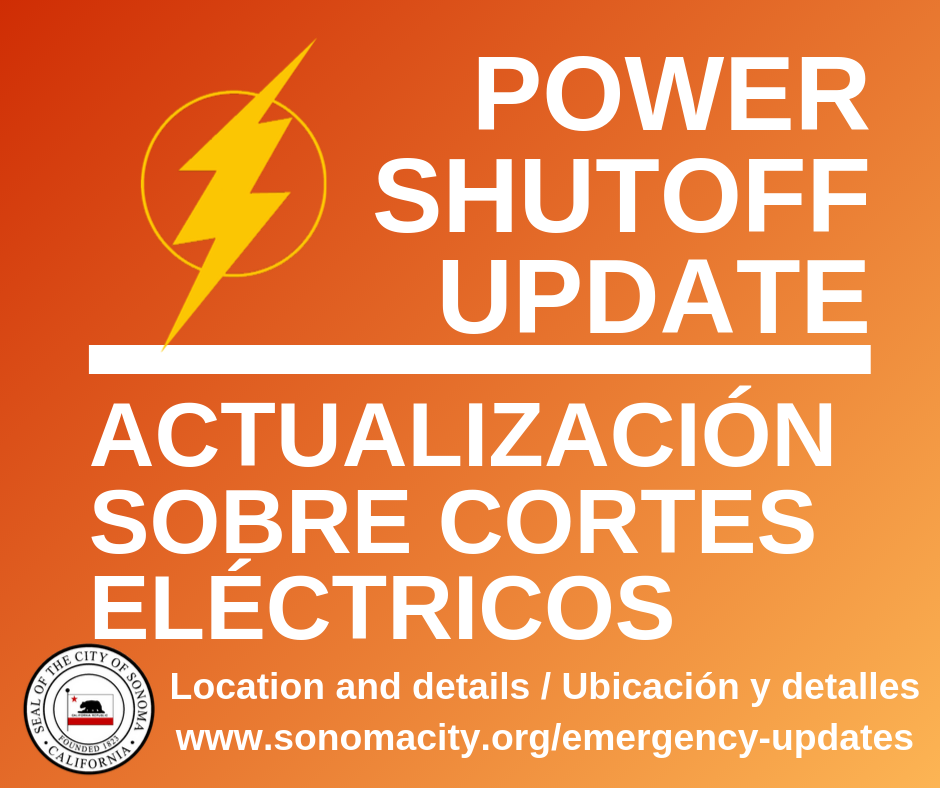 PG&E proactively shut off power to parts of the City of Sonoma (City) and Sonoma Valley beginning at 3:00 PM on Wednesday, October 23rd. See the PG&E outage map. Power restoration is expected to begin at noon on Thursday with most restoration expected to be completed by the end of the day on Thursday with full restoration by sundown on Friday.
Operations
City offices have not lost power and will be open regular hours.
The City opened the Emergency Operations Center from 3:00 PM – 6:00 PM today and will open fully Thursday, October 24th at 8:00 AM.
Charging Center & Community Resource Centers (CRC)
The City and County will open a Charging Center at the Sonoma Veterans Building at 126 1st ST W, Sonoma on October 24th from 8:00 AM – 6:00 PM. Please remember to bring your own cords and follow the posted Rules & Expectations.
PG&E will open CRC's tomorrow, Thursday, October 24. The Community Resource Centers will remain open from 8:00 AM to 8:00 PM. Restrooms, bottled water, electronic-device charging and seating for up to 100 will be available at Hanna Boys Center, 17000 Arnold Drive, Sonoma, CA 95476, as well as at Santa Rosa Veterans Memorial Building, 1351 Maple Avenue, Santa Rosa, CA 95401 and Cloverdale Citrus Fair, 1 Citrus Fair, Cloverdale, CA 95425.
Schools
Sonoma Valley Unified School District has announced that they expect all schools to be open with power tomorrow, Thursday, October 24th.
Weather
The National Weather Service has issued a Red Flag Warning for the North Bay Mountains and North Bay Interior Valleys, which includes all of Sonoma County, from noon Wednesday (10/23) to 4 p.m. on Thursday (10/24).  Sonoma Valley Fire & Rescue Authority has up staffed two engines, a water tender, an ambulance and additional chief officers in place for the critical fire weather.
In addition to the current event, PG&E announced that they are monitoring a possible weather event projected to arrive late Saturday, October 26th through Monday, October 28th. Sonoma County is currently under a Public Safety Power Shutoff (PSPS) "Elevated" warning status for this developing weather event. "Elevated" is PG&E's lowest level of potential for a PSPS. PG&E expects to have more information regarding the weekend event tomorrow (10/24).
Traffic Safety
While we don't expect any traffic signals to be out in Sonoma city limits, drivers are reminded to be vigilant as multiple intersections in Sonoma County are expected to be without power including during the afternoon rush-hour commute. Public Safety officials urge drivers to reduce speeds, drive with caution and treat all intersections without power as a 4-way stop, per state law.
The City has information at for Sonoma residents and businesses to help prepare for a potential power shutoff on our Extended Power Outage webpage (http://www.sonomacity.org/extended-power-outages/) as part of the City's Emergency Preparedness information where you can find more resources and information about PG&E's PSPS program and ways you can better prepare for extended power outages.