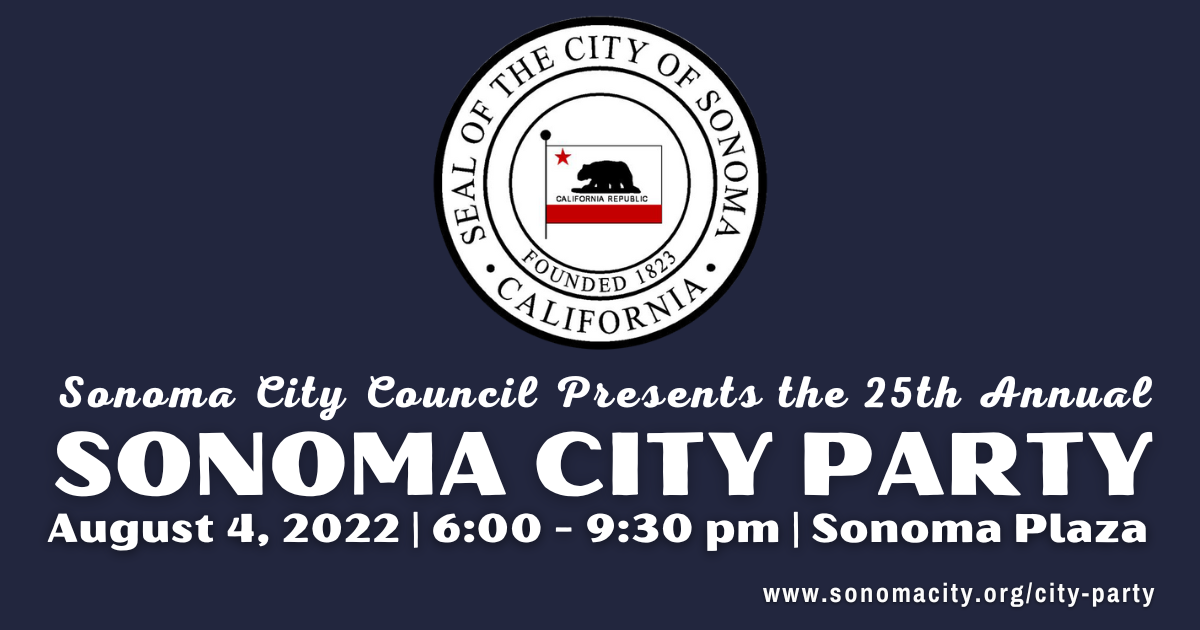 The Sonoma City Party Returns to the Plaza Thursday, August 4th! The Sonoma City Council and the City of Sonoma are delighted to present the 25th Annual Sonoma City Party. The City of Sonoma hosts this annual party to bring our community together for fun, festivities, and to celebrate our special town. A long-standing tradition, this unique event celebrates the rich history of Sonoma, its residents, businesses, and non-profits.
The event is free to attend and will be held at the Sonoma Plaza on Thursday, August 4th, 2022, 6:00 p.m. – 9:30 p.m. 
HOW TO ENJOY THE CITY PARTY
Bring along your picnic blankets, folding camp tables and chairs, picnic supplies, warm clothing, a flashlight, and dancing shoes and you're all set! 
THIS YEAR'S SONOMA CITY PARTY IS EXCITED TO ANNOUNCE THE FOLLOWING ENTERTAINMENT LINEUP:
Loosely Covered
SleaZZy Top
The Illegitimate AC/DC
The Traveling Spectacular
Learn more about this year's entertainment on our website https://www.sonomacity.org/city-party-entertainment/
RULES
No unattended setup prior to 3 p.m. on Thursday, August 5, 2021. Items left unattended will be removed. No roping off or barricading of sections in the Plaza. Those who do this will be asked to take it down immediately.
NOT ALLOWED:
Household furniture (this includes dining tables, sofas, and chairs),
Barbecues of any kind,
Candles,
Tents and canopies, or
Pets – Service animals specifically trained to aid a person with a disability are welcome.
THANK YOU TO OUR CELEBRATING SPONSORS!
Fairmont Sonoma Mission Inn & Spa
Friedman's Home Improvement
Redwood Credit Union
Interested in becoming a sponsor? Review the 2022 Sonoma City Party Sponsorship Packages  or for a customized package please call Lisa Janson 707-339-2534 or email ljanson@sonomacity.org.