Sonoma County has issued a weather alert (below), warning of high winds and flash floods for the Sonoma County area beginning Tuesday night.
Free sandbags are now available to City residents at City Hall during normal business hours, limit 10 bags per resident while supplies last. Additional bags are available for purchase at  Friedman's Home Improvement Center (1360 Broadway).
Free sand is also available to City residents in the parking lot at Depot Park (270 1st ST W). The sandbag filling station at Depot Park is self-serve; please bring your own shovel.  Read our Sandbag Instructions to learn how to properly fill, stack, and construct sandbags.
Visit our Emergency Preparedness page for more information including an Emergency Supplies Checklist and visit Ready.gov/floods to learn more about how you can protect yourself, your family, and your community in the event of flooding. To stay up to date on emergency notifications, make sure to sign up for SoCo Alerts and Nixle.
SONOMA COUNTY WEATHER UPDATE
(Mensaje en español abajo)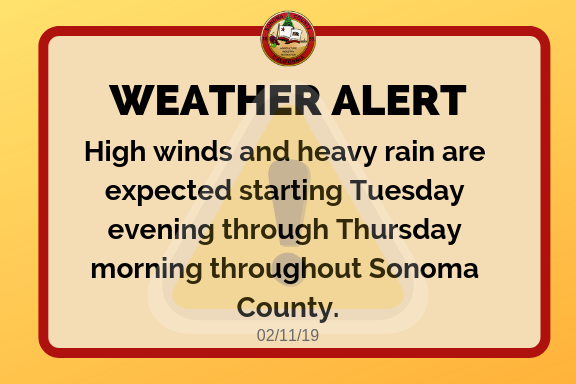 Starting this Tuesday (02/12) at 10PM an atmospheric river will pass through Sonoma County generating the following alerts:
• Flash Flood Watch in effect
• High Wind Watch in effect
What to expect:
*************1. HIGH threat to commute traffic
2. MEDIUM – HIGH threat of wind related problems including falling trees and/or power outages.
3. MEDIUM – HIGH risk of flash flooding
4. MEDIUM – HIGH risk of mudslides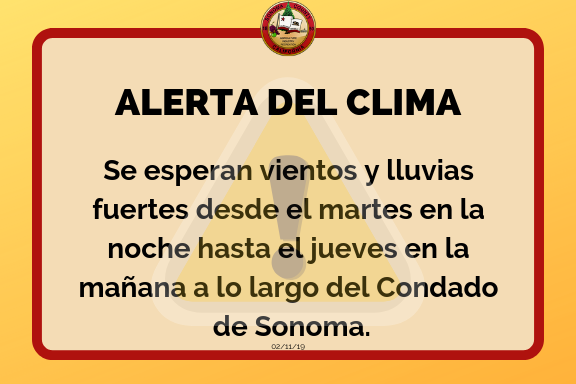 ACTUALIZACIÓN SOBRE EL CLIMA:
A partir del martes (02/12) en la noche un sistema de lluvias (rio atmosférico) pasará por el Condado de Sonoma generando las siguientes alertas y advertencias:
• Alerta por posibles inundaciones repentinas
• Alerta de vientos fuertes
Qué esperar:
1. ALTO riesgo de impacto en carreteras durante horas pico
2. MEDIANO – ALTO riesgo de problemas causados por el viento, incluyendo árboles caídos o cortes de electricidad
3. MEDIANO – ALTO riesgo de inundaciones repentinas
4. MEDIANO – ALTO riesgo de derrumbes