By Sarah Hadler, the Program Manager and League Cycling Instructor #3909 for the Sonoma County Bicycle Coalition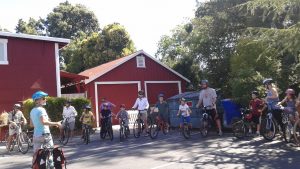 1-The City of Sonoma has been a certified bronze level Bicycle Friendly Community since 2009. This award is designated by the League of American Bicyclists and recognizes that Sonoma is committed to "providing safe accommodations for bicycling and encouraging and educating people to bike for transportation and recreation." When a city works towards making bicycling safe and convenient then the quality of life is enhanced: public health and air quality improve, traffic congestion decreases, and the overall safety of the community increases.
2-It's the best way to get to know the community. When you are riding a bike, you get a much more intimate view of a place. You can smell the fresh baked goods from Basque Boulangerie, smile and wave at fellow cyclists and pedestrians and listen to the birds singing. Ride to the wondrous eight-acre central plaza that is the heart of Sonoma and know that this plaza preceded the arrival of the automobile.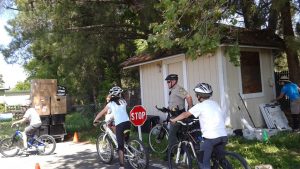 3-Be a bicycling ambassador for our youth. There is a very vibrant bicycle education program in Sonoma in which youth and families are taught how to ride safely. The City sponsors a bicycle rodeo at Prestwood Elementary and a Family Bicycling Workshop that takes place at the Community Center. There is also a Smart Cycling seminar and on-bike session for teens and adults. All of these classes are free to the public. A gem in the City of Sonoma is Operation Bicycle, run by bicyclist enthusiast, Adrian Palenchar. Operation Bicycle is going on five-year's strong and is a program of Teen Services Sonoma; teens can earn a bike, learn how to do bike repairs, help with valet bicycle parking and go on fun rides.
4-The more people who ride bikes, the safer it is for bicyclists. In Sonoma, about 2.3% of the population commutes by bike, which is twice that of the county. As more people ride their bikes to get around, the more drivers get used to bicyclists on the roadway and they become better drivers around bicyclists. Then more people feel comfortable riding their bikes and the number of bicyclists increase. The term coined for this pattern is a "virtuous cycle".
5-Reduce traffic congestion. Bicycling is one of the most convenient ways to get around. When you bike to get somewhere, there is one less car on the roads, which means less traffic and less air pollution. Morning traffic can become pretty congested as kids are being driven to school and adults are getting to work. Consider biking to school and/or work one or two days a week. Many of the schools in Sonoma are located in places that are accessible by bike. Sassarini Elementary is on Fifth Street West, which has bike lanes. Both Sonoma Valley High School and Adele Harrison Middle School are right off of the Nathanson Creek Trail which is a multi-use path. Flowery and Sonoma Charter are near Sonoma Highway, which just received new pavement and bike lanes and other infrastructure improvements. According to a National Household Travel Survey, about 40% of all trips are under 2 miles, which is a distance that is easily biked in 10-20 minutes. If many of us committed to biking those shorter trips, there would be a lot less traffic on the road.
6-Be happy! It's true, studies show that bicyclists are happy people. There are a myriad of reasons for this but it basically just breaks down to this: you will feel better if you move your body and get fresh air every day. Many bicycle commuters will say that their commute is the best part of their day. How many drivers can say that?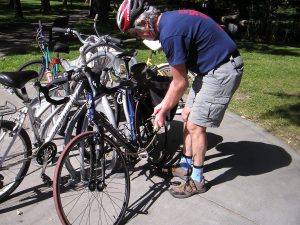 7-It's easier to park. When you ride a bike, you can park with ease. In the City of Sonoma, there are over 45 bike racks, each holding anywhere from 2-20 bikes. The City also sponsors free valet bicycle parking at the Sonoma Farmer's Market; you just ride your bike to the market and get a front row parking space for free!
8-Save money. When you ride a bike instead of driving somewhere, you are saving money on gas and also on the average wear and tear of your vehicle. You are also keeping yourself healthier in the long run and can save on costs associated with health care. In Sonoma, there are 10,371 residents living in about 3 square miles; just imagine the money saved on gas yearly (not to mention the decrease in pollutants) if even a tenth of the residents rode their bikes to work and school a day or two a week.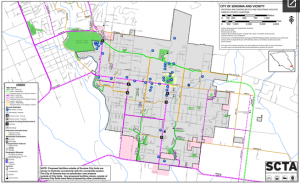 9-Everything tastes better. Food is your fuel when you ride your bike, so feel free to indulge! There are many amazing and world-class restaurants and wineries in the Sonoma area. Now that there are new bike lanes on Sonoma Highway, you can ride your bike to El Molino Central, grab a table in the sun outside and revel in the authentic tasting tamales or fish tacos. Ride along the multi-use Sonoma City Trail to the Sebastiani Vineyards and Winery on Fourth Street East, park your bike in the conveniently located bike rack and enjoy sampling a variety of locally grown and ever-so-tasty wines.
10-Enjoy the great outdoors. The City of Sonoma is favored with a Mediterranean climate and a gentle and flat terrain. The climate and terrain combined with the growing network of multi-use trails and neighborhood parks makes it an ideal place to ride a bike. People spend more time than ever indoors, yet we all agree on how rejuvenated we feel when we are outside. So go ahead, get up early, hop on your bike and watch the sunrise while riding along the Madera Park Trail. You'll feel inspired for days to come!
For more information and to download a bike map, please visit our Bicycling in Sonoma page.
SaveSave
SaveSaveSaveSave