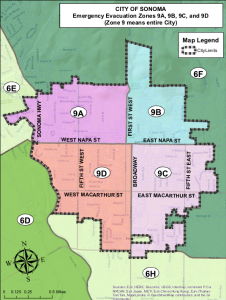 In the event of a large-scale emergency requiring mass evacuations, the City of Sonoma and County of Sonoma developed designated evacuation zones for the entire community. It's important to know your zone ahead of time so that you can quickly evacuate if orders for your zone were issued. Find your zone on the County's evacuation zone map.
Depending on the emergency and the conditions, public safety officials may utilize a variety of ways to alert you that it is time to evacuate. Below is information on local alerting systems that you need to be aware of.
Reminder:  Always use your best judgement in an emergency situation. If you feel unsafe, spot fires ignite, or conditions change, don't wait for an evacuation order; leave early if unsure to avoid being trapped by severe conditions.
Sonoma County has provided information on Staying Safe While Evacuating in Emergencies During COVID-19.
SoCoAlert - Notification by phone call, text, email

In the event of an evacuation, local emergency officials will use SoCoAlert to reach you. You must register for emergency notifications at socoalert.com to receive evacuations notices by phone call, text, and/or email. Evacuation notices sent through SoCoAlert will use the following terminology:

EVACUATION ORDER:  You must evacuate immediately due to imminent threat to life.

EVACUATION WARNING:  There is potential threat to life and property within a given time frame. Begin preparing yourself, your animals, and your property for a potential evacuation order.

SHELTER-IN-PLACE:  Stay secure at your current location. This may be required when evacuation is impossible, too dangerous, or unnecessary.
Additional Alerting Tools

Additional alerting tools such as Nixle, WEA, EAS, and social media may also be used to notify the community in the event of a large-scale emergency evacuation. Learn more about all of these systems on the Emergency Preparedness page.
Hi/Lo Sirens on Public Safety Vehicles

Hear the Hi/Lo, time to GO!  Depending on the emergency, the City's ability to reach you traditional alert and warning tools may be limited. Sonoma Sheriff police cars and fire department vehicles are outfitted with new Hi/Lo sirens, a different sound than traditional sirens, that will only be used to alert residents to evacuate. This European-style, 2-tone siren will only be used in an emergency to alert residents within specific areas of the need to evacuate. If you hear the Hi/Lo, it's time to go. Watch the brief video below with the sound turned "on" to hear the Hi/Lo siren.