The Request for Proposals (RFP) process for applications for 1 x retail and 1 x non-store front retail Commercial Cannabis Business ("CCB") is now closed.
As adopted and approved by the City Council, the City of Sonoma is opening a Request for Proposal process for applications for 1 - retail and 1 - non-store front retail commercial cannabis business. This application process is adopted pursuant to the Sonoma Administrative Regulations Implementing Ordinance No. 03-2019.The application process to operate a Commercial Cannabis Business ("CCB") in Sonoma will open on January 3, 2020.
Applications are available online and from the Planning Department located in Sonoma City Hall. To be considered for issuance of a CCB, final applications must be submitted by February 21, 2020 to the City Clerk located at No. 1 The Plaza, Sonoma, CA, 95476 by 3:00 P.M.
Applicants should monitor the City's web page for any additional information, FAQs or updates. It is the responsibility of the Applicant to stay informed of this information.
Proposed Schedule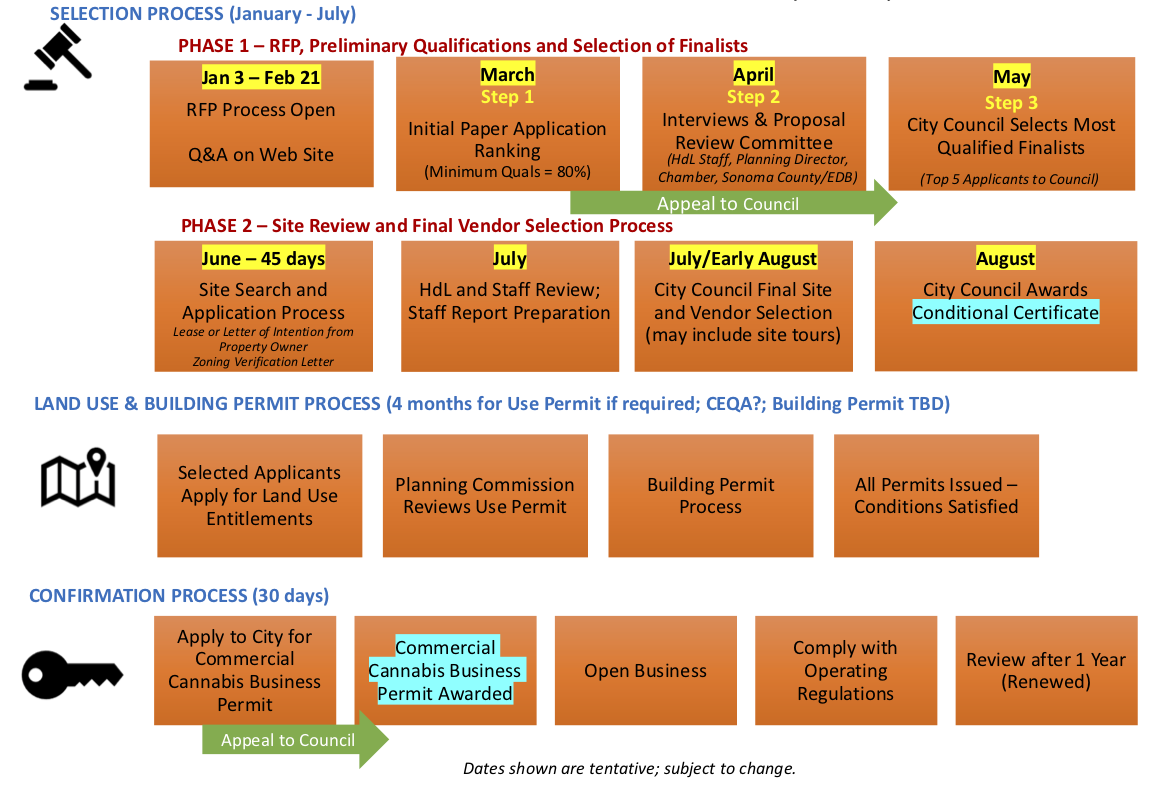 The City Council has approved Administrative Regulations that implement Ordinance No. 03-2019 (Section 5.36 of the Sonoma Municipal Code) and Ordinance No. 04-2019 (Title 19).  Please review these regulations to understand the requirements and process for applying for and operating a commercial cannabis retail business in Sonoma.
Applicants must hand deliver a complete comprehensive initial application package digitally in a PDF format and other required related forms that require original signatures in paper format. The Application must respond to all requirements outlined in the "Administrative Regulations" and the "Application Procedures & Guidelines". A flash drive containing the complete comprehensive initial application package, signed copies of the required application, attachments and agreements, etc., and the deposit for the initial application (fee) shall be submitted no later than February 21, 2020 at 3:00 PM.
If you have any questions or would like an update on the status of your application, please call the Planning Department at 707.938.3681 or by email at cityhall@sonomacity.org.
See recent Cannabis Regulation news below and subscribe to receive automatic email updates when Cannabis Regulation & Cannabis Retail RFP Updates are posted: