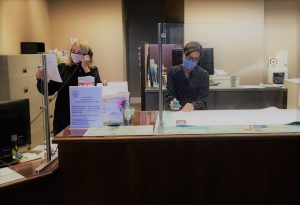 UPDATE: Sonoma City Hall reopened for in-person services beginning Monday, February 14th. Masks are not required.
City Hall resumed regular hours and is open to the public on Monday through Thursday, 8:00 a.m. – noon and 1:00 p.m. – 5:00 p.m.
For the Planning and Building Departments, counter hours will be 8:00 a.m. to noon for drop-ins, and staff will be available by appointment only from 1:00 -5:00 p.m. (Monday – Thursday).  Please call 707-938-3681 to make a Planning or Building appointment.    
City Hall will continue the regular schedule of being closed to in-person services on Fridays, but departments remain available by e-mail on Fridays.
We encourage everyone to continue taking advantage of City services provided online and over the phone when convenient, and it's always a good idea to contact the department or specific staff member to make an appointment. We look forward to seeing you!
Police and Fire
Emergency calls for service continue to receive the same high level of professional response and care as you have always received. In an emergency dial 9-1-1.  Dispatch may ask you for additional information.
The Sonoma Police and Fire Departments have made minor modifications to service to ensure the safety of our public and our personnel, including the closure of fire stations to the public.  The Police Department lobby is open to walk-in visitors. Fire Department staff can be reached at (707) 996-2102 for non-emergency matters during normal business hours. The Sonoma Police Department office can be reached during regular business hours, Monday – Friday, 9:00 AM – 5:00 PM at (707) 996-3602 for non-emergency matters. You can reach 24 hour non-emergency dispatch at 707-996-3601.
Sonoma City Council and other Public Meetings
On Wednesday, March 16th, the City Council voted to return to in-person only meetings for all City Council, Commission, and Committee meetings.  Meetings will be held at City Council Chambers at 177 First St. West and will continue to be live-streamed on channel 27 as well as on the City's CivicWeb Portal and YouTube Channel.
City Hall
City Hall, including the Building and Planning counter, is currently open during regular business hours Monday through Thursday 8:00 AM – Noon and 1:00 PM – 5:00 PM.
A payment drop box has been installed near the entrance to City Hall for those who prefer a contactless option (no cash payments please).
If you have any questions about City services, please call City Hall at (707) 938-3681 or email cityhall@sonomacity.org.
Public Works
City of Sonoma
Public Works
offices at the Corporation Yard will be closed to the public for walk-in service until further notice. Essential maintenance and hazard response continues. Issues such as downed trees, flooding, road hazards, and traffic sign or signal issues can be reported by calling Public Works at (707) 938-3332 or 24-hour dispatch at (707) 996-3601. For other issues or questions, call Public Works at (707) 938-3332 during business hours or email
publicworks@sonomacity.org
.
City Parks & Trails
Open with no modifications.
Code Enforcement