The City of Sonoma is embarking on a process to update its General Plan, the visionary blueprint that will guide our city's development for the next 20 to 30 years. The current General Plan, which has been in place since 2006, has been a comprehensive long-term guide for Sonoma.
We're excited to announce the launch of a dedicated website for the General Plan Update. This digital hub will serve as your go-to resource for the latest information on the General Plan. There, you'll find opportunities for active participation, access to essential reference documents, and direct contact with city officials and experts.
Join us in shaping the future of Sonoma! Your input and ideas are vital as we navigate the path ahead. Stay tuned for updates on the General Plan Update by subscribing to receive news & updates.
The Process and Next Steps
The first steps were to select a consultant to support the development of the General Plan Update and to hold a Joint City Council and Planning Commission to kick off the General Plan Update process [watch a recording]. The next step will be to hold Community Workshops on November 2nd & 13th to discuss assets, issues, opportunities, and your vision for the City of Sonoma through 2045!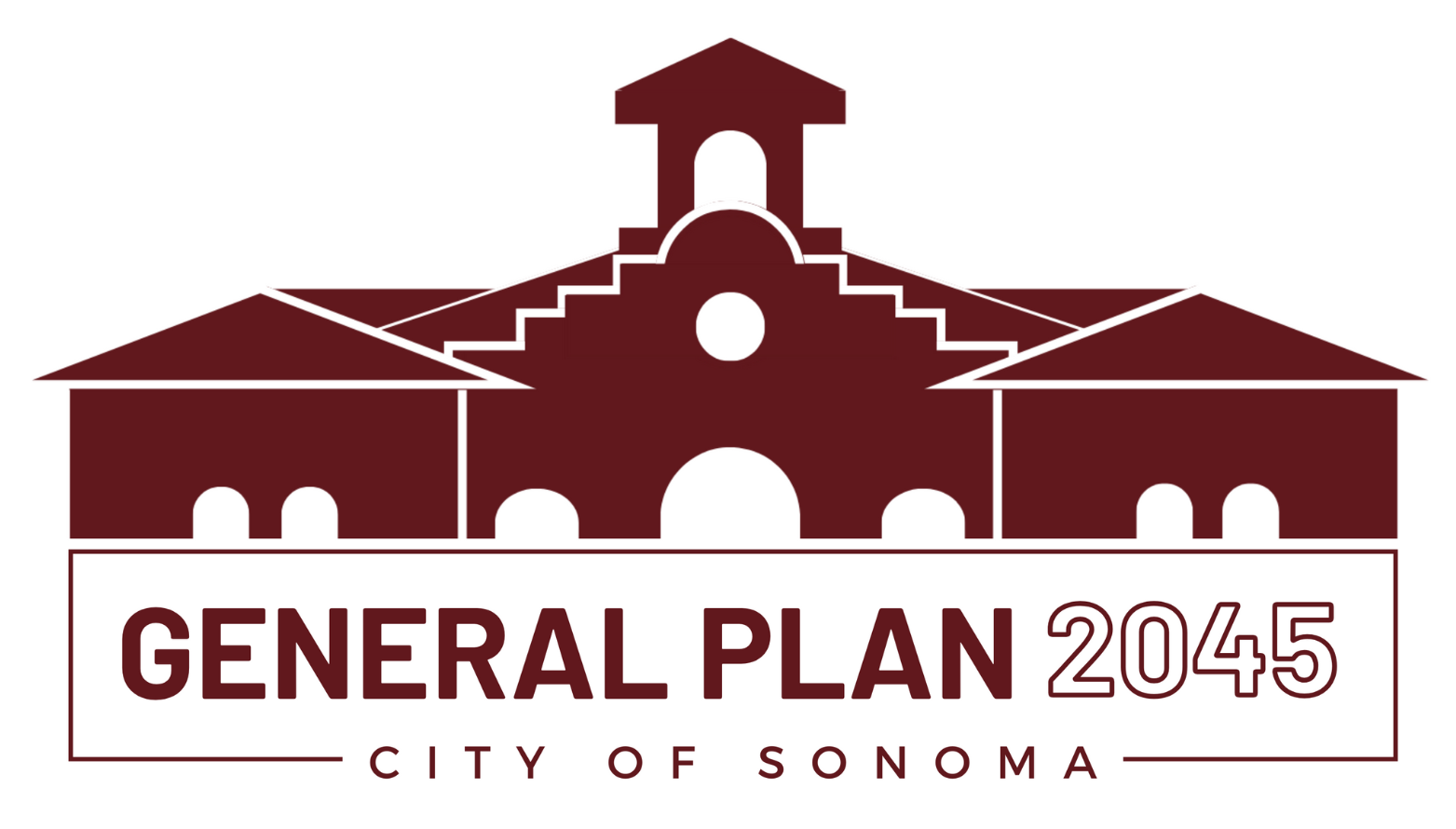 Existing General Plan
The existing General Plan was comprehensively updated and adopted in 2006 and encompasses a time frame from 2006 – 2020. Since 2006, the Housing Element has been updated regularly as required by State law, with the current version having been adopted on March 16, 2015. Besides updating the Circulation Element in 2017, none of the other elements have been comprehensively revised since 2006. The current General Plan is comprised of 7 elements:
Community Development Element
Local Economy Element
Environmental Resources Element
Circulation Element
Public Safety Element
Noise Element
Housing Element
The General Plan update is envisioned as a major update of all elements except the Housing Element, including the introduction of new topics including Historic and Archeological Resources, Environmental Justice, Sustainability and Climate Change, and Parks and Recreation. Ultimately, a goal of this update is to produce a General Plan that is accessible and implementable.