In mid-2019, the Sonoma City Council completed a Minimum Wage Study and adopted a local minimum wage ordinance, which became Chapter 2.80 of the Sonoma Municipal Code.  The table below summarizes the City's local minimum wage as compared with the State of California's minimum wage.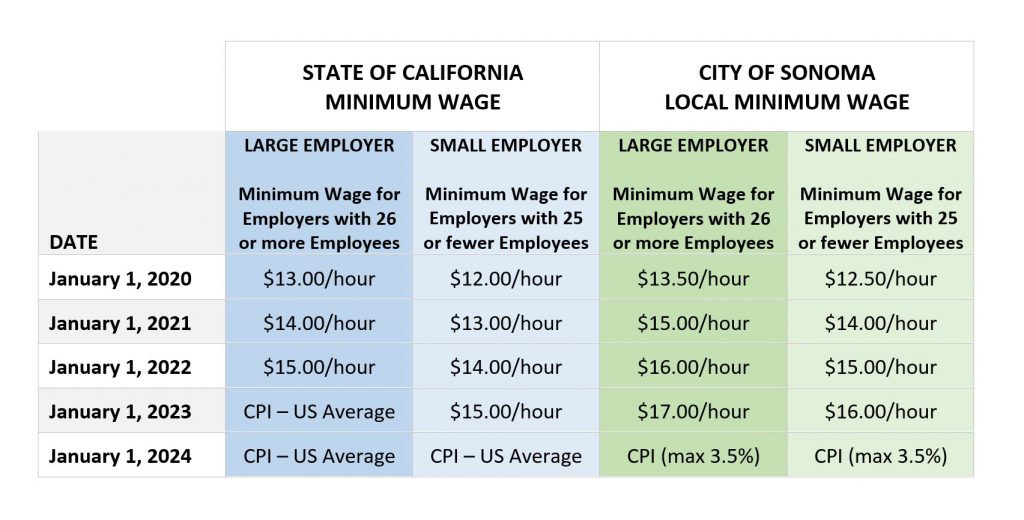 The following materials are available to download:
The Minimum Wage ordinance originally included a medical benefit credit of up to $1.50 per hour to go into effect January 1, 2021, with guidelines to be determined.  At the meeting of November 16, 2020 the City Council voted to introduce an ordinance  to remove the Health Benefit Credit (Section 2.80.040(F)).  The second reading of this ordinance was held at the City Council meeting of December 7, 2020.
Answers to Frequently Asked Questions are provided below, and additional background is available on the Minimum Wage Study page.  For more information, contact the City Clerk.
Sonoma also has a Living Wage ordinance, which is more limited in scope.  Learn more about the Living Wage here.